Tbilisi budget aims to help vulnerable population
By Gvantsa Gabekhadze
Thursday, February 23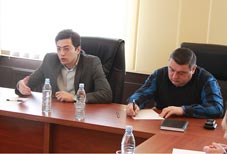 The plight of the homeless, along with other items in the Tbilisi city budget, was discussed at a summit between the Christian Democrats and Mayoral representatives at City Hall on February 22.
The Mayor's Office announced that three, three-storey blocks of flats will be constructed for homeless people in the city's Dighomi district. Christian Democrat representative,Zaza Gabunia, says that two similar buildings were built by the city last year, thanks to the efforts of his party and the assistance of a Swiss development agency. "We think that this should not a one time [thing]... as the number of homeless people is too high in the city," Gabunia said.
Head of the Mayor's social services department, Gia Mamrikishvili, said that the issue of homeless people is a very important one to the city. He explained that the housing project will be financed by donor organizations and the Mayor's office. "Seventeen Tbilisi families and seven refugee families will be lodged there. They will be selected by a special working group two months before the completion of the buildings".
He also confirmed that the number of homeless people has increased recently, and that solving this problem is a priority for the Mayor.
Other priorities for the budget were discussed. Representative from the financial department, Paata Gobejishvili, noted that money will be allocated for the rehabilitation of damaged buildings as well as the program "New Life for Old Tbilisi".
Together with the Tbilisi Mayor's Office, Tbilisi City Hall also expressed readiness to assist those residents having difficulties paying their taxes and municipal fees.
Tamaz Shoshiashvli, of the city's financial department, said that a program to provide people with gas is ongoing however, out of the 15 000 residents in the program, there are still 8000 who lack natural gas access and must heat their homes with electricity. As this increases both their electricity and cleaning service bill, the Mayor's Office promises to pay 50% of their costs.
Based on official data, the budget has increased by 9 500 000 GEL over last year, to a total of 725 million GEL.