Georgian food fair promotes domestic products abroad
By Lera Khubunaia
Thursday, February 23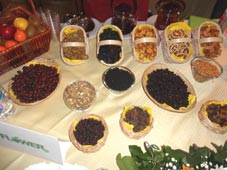 The Ministry of Agriculture hosted a Traditional Georgian Sweets and Spices Fair yesterday, at Phaetoni restaurant.
"Popularization of Georgian sweets and spices is very important for our country, as this will help our products to become popular in foreign countries," said Eter Kamarauli, Deputy Minister of Agriculture. "We also invited representatives from our neighbouring [countries'] embassies, to taste and decide whether or not our products can be exported to their countries."
Members of different international organizations and the representatives of various state agencies attended the presentation. Also among the invited guests were representatives of numerous shopping centers, large supermarkets, and distribution companies.
"Many people in Japan have never heard of Georgia, so this will be a great way to introduce Georgian food to foreign societies," said Isamu Azechi, consul of the Embassy of Japan to Georgia.
On display at the exhibition were a number of traditional Georgian sweets, spices, teas, and nuts. Popular Georgian snack, churchkhela, was represented by Badagi and Dr. Georgia, two companies that manufacture the product for large-scale distribution. Dovli, Sergo Mamulashvili, and geo flower presented a variety of dried fruits. Other companies, such as Zaza Galdava, Roland Zirakishvili, and Alaverdis Monastris Tapli, showcased their honey, while Belichka introduced their sunflower to visitors.
"I think after this exhibition our company will become more known to the public," said Shota Kalandadzishvili, a representative of honey producer Taplikatsi.
Taplikatsi sells honey sourced from a farm belonging to the Alaverdi Monastery. Being a "honeyman" suits a monk's lifestyle, according to Kalandadzishvili.
During the event, visitors had a chance to taste Georgian desserts like churchkhela and gozinaki; some of which were prepared in front of guests.
Dinastia, one of the candy companies, is known for its churchkhela, tklapi, jams, and sweet breads. The company originally comes from Dvani, a small village in the district of Kareli, which is located close to the South Ossetia conflict area.
"Even though we are coming from a very provincial district, we will not disappoint our guests," said Iuri Kopadze, a representative of Dinastia.
The Ministry of Agriculture intends to host more exhibitions like this one, in an effort to popularize Georgian products and companies in both local and international markets.