President Saakashvili delivers lecture at Maastricht University
By Lera Khubunaia
Friday, February 24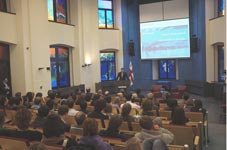 President of Georgia, Mikheil Saakashvili, visited Maastricht University Wednesday, by special invitation of the school's administration.
After an introduction by Chairman of the Executive Board of Maastricht University Professor Paul Martin, Saakashvili discussed Georgia's domestic transformation and its political growth in the Caucasus region. The President spoke at length about the reforms made by his government since 2004.
"All the radical changes transformed our country from a failed state into a leader of the region; before the Rose Revolution, we were basically a failed state. But now in terms of the struggle against corruption and for economic openness, we are one of the leaders across the world," he said in his speech, noting that Georgia still faces a long road ahead.
After his remarks, Saakashvili took questions from students and faculty of the university. The audience was largely interested in relations between Georgia and the EU, including free trade negotiations. Questions were also asked about the possibility of free trade negotiations with the United States, Georgia's determination to join NATO, and its relationship with Russia.