Occupation Week marked across Georgia
By Salome Modebadze
Friday, February 24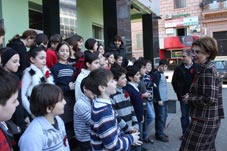 Citizens of Georgia observed the Red Poppy Campaign this week, commemorating the 91st anniversary of the Soviet Occupation. The campaign was initiated by
Prime Time
for Occupation Week, and aims to raise public awareness of the annexation of sovereign Georgia over ninety years ago. Georgia was eventually declared a Soviet republic and became a member of the Soviet Union under the control of Moscow.
Those participating in the campaign wear a red poppy badge for the week, in remembrance of those who lost their lives protecting Georgia.
Earlier this week, Georgian politicians gathered at the memorial to Georgian Cadets in Kojori, to commemorate the young men who died in the last battle for Georgia's independence on February 25, 1921.
Public figures emphasized the importance of the date at Prime Time's offices. Artist Gia Bugadze praised the heroism of Georgian soldiers fighting against the Soviet army. Speaking of their "national self-consciousness," Bugadze said that "being a Georgian is not only genetics, but a state of [one's] soul." Expressing his respect towards the soldiers who sacrificed their lives to the idea of independence, he spoke of the great responsibility Georgians should feel towards their ancestors.
Zaal Samadashvili, Chair of Tbilisi City Council, said that each Georgian should know his identity and define "who he is, where he comes from, and what he is going to do in future" as part of the remembrance. Ilia State University professor Sergo Ratiani spoke of the special importance of remembering the occupation, as the Soviet system destroyed civil society in Georgia.
Participation in Occupation Week is significant because, as musician Roma Rtskhiladze says, "Each of us is a soldier". Expressing his respect for singer Temur Tsiklauri, who shares tales of Georgian history, Rtskhiladze said that "the homeland is one, like God". Tsiklauri, who studied in Kojori, recalled how his teacher used to take students to the battlefield in secret, as no one was allowed to talk about those events.
According to Prime Time founder Tamar Pkhakadze, August 8, 2008, when the Russian army last invaded Georgian territory, is as important as February 25, and should be remembered alongside it..
Schoolchildren also joined the campaign at the initiative of the Ministry of Education and Science of Georgia. As Deputy Minister Irine Kurdadze explained at Tbilisi Public School #51, the goal of organizing Occupation Week events is to educate young people about Russian aggression against Georgia, both in 1921 and in 2008.