Georgian government seeking return of Israeli monastery
By Ernest Petrosyan
Tuesday, February 28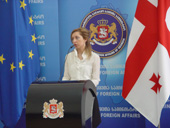 Talks on the ownership of the Monastery of the Cross in Jerusalem are one of the priorities of Georgian Ministry of Foreign Affairs, according to Deputy Foreign Minister Nino Kalandadze.
Kalandadze said that efforts to restore or regain Georgian cultural heritage in foreign countries is an active government policy. Negotiations regarding the historically Georgian monastery began long ago, with the Ministry and the Georgian mission to Israel involved in talks.
"It's difficult to say what stage the negotiations are in, as both parties are always involved in the process," Kalandadze said.
According to her, the government wishes to create a working group, staffed by not only representatives of the Ministry and Embassy, but with specialists and scholars. Kalandadze expressed hope that after President Mikheil Saakashvili has made a statement on the topic, the process of negotiations will accelerate.
"It's too early to speak about difficulties in the negotiations... I'm sure we'll cooperate successfully... It is only a presumption as the process of negotiation with foreign countries always has certain difficulties," she said.
Culture Minister Nika Rurua, however, refrained from making any comments about the technical aspects of the talks. According to the Minister, negotiations to launch plural blessings and liturgy are underway.
"It is not easy for Georgia to regain the Monastery of the Cross in Jerusalem. It is a very complicated process and the early conclusions will not be useful in this case. It is better not to reveal the technical details and names of the working group members, as the result is so important that it is not worth putting them on scales," Rurua told journalists.
Recently, President Saakashvili addressed the National Academy of Defense in Gori and mentioned the possible return of the monastery. Currently, a private group is working to buy out the monastery.
"We are grateful to the employees of government of Israel, for saving Georgian sacred objects kept in the Monastery of the Cross. I raised this issue during my first visit to Israel. Now the issue must be raised to return the Monastery of the Cross to Georgia and the Georgian church. Georgian prayers must be delivered there. It must be part of the Georgian church, [and] Georgian culture, as it had been for centuries," the President asserted.
Catholicos Patriarch of Georgia, Ilia the Second, returned from a visit to Jerusalem on February 25. At a Sunday service, he said that he hopes a time will come when Georgians are served in the Holy Land.