Saakashvili's parliamentary report to be delivered tonight
By Salome Modebadze
Tuesday, February 28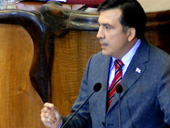 Georgian President Mikheil Saakashvili will deliver an annual report on the most important issues facing the country in Parliament at 8 p.m tonight. The President will summarize the achievements of the past year and introduce the government's priorities for 2012.
According to parliamentary regulations, the President addresses Parliament during the first spring plenary session. After his speech, MPs will have two hours to prepare their responses, followed by speeches by the heads of the factions, and a debate.
Confident that Saakashvili will touch on all the issues important to Georgian society, First Deputy Chairman Mikheil Machavariani said the President will focus on economic development, healthcare, agriculture, and employment. Noting his awareness that the opening of new hospitals is not enough to improve Georgians' welfare without the availability of affordable medical services, Machavariani said that insurance companies should do more for their customers.
Opposition Deputy Chairman Paata Davitaia, who is also the leader of Georgia's European Democrats, spoke of the importance of the President's annual report, and promised a strong response to both domestic and foreign policy announcements. Giorgi Targamadze, leader of the Christian-Democratic Movement (CDM), intends to raise those issues which CDM has found troublesome, particularly the effectiveness of taxation and the restoration of Georgian villages.
Saakashvili's report will be followed by a debate, in which each Member of Parliament, from the Speaker to individual MPs, will have a set amount of time to question their colleagues.
The issue of who will begin the debate prompted a harsh confrontation at the Bureau sitting on Monday. Chairman of the faction Unity for Fairness, Dimitri Lortkipnidze, wanted his party to be the first as it is an independent faction. He claimed that this would be the continuation of a tradition in which independent MPs have an advantage over their minority and majority faction counterparts.
Machavariani wondered why MPs were always trying to oppose parliamentary regulations, explaining that there is no such thing as an "independent faction," but only an "independent MP". Leader of the parliamentary majority, Petre Tsiskarishvili, said he failed to see a problem with Lortkipanidze's suggestion. But, he admitted, MPs usually prefer being the last to deliver their speech, in order to have enough time to prepare. Tsiskarishvili also noted that if necessary to calm the dispute, he would speak last.