Saakashvili speaks about health care and inequality in Kvareli
By Lera Khubunaia
Wednesday, February 29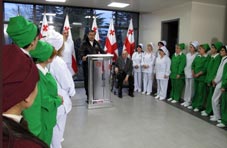 On Monday, President Mikheil Saakashvili visited Kvareli in the Kakheti region, where he opened yet another new hospital and spoke about health care and income inequality.
Saakashvili announced an insurance program that will be available to all people and will cover all necessary procedures and services.
"The state will also provide full health coverage for children up to five years of age, or pre-school children. Retirees will be covered by the insurance. Health care will be available for all vulnerable people," he said.
He also commented on new and improved hospitals across the country. "Before, we had 5-6 renovated hospitals in the whole country. Now each district has ultra modern clinics. Back then only rich and wealthy people could get treatment in those hospitals... [while] the rest of the population had to get treatment in horrible medical conditions, where they had to pay 5-6 times more for poor treatment," Saakashvili remarked, adding that this irritates some people who do not like the "idea of equality".
"The idea of equality does not mean that everyone will live equally; there will be always someone who has more income and... someone who has less; this will be determined only by who worked more and who worked less. This will not have anything to do with those who use stolen goods and misappropriated lands," the President asserted.
He noted that the majority of his party's Members of Parliament come from poor families, adding that, "Of course there are those who come from wealthy families, but they belong to a minority".
"You might remember when the opposition rallied in Tbilisi and on the day of Kvarloba, decided to hold a rally at [Minister of Justice] Zurab Adeishvili's house. These people faced only one problem - they could not find the house of Zurab Adeishvili. Why? Because they were searching for a very large and rich-looking house; they could not even imagine that Adeishvili's house was one of the simplest houses," Saakashvili said.
Saakashvili also spoke about the updates being made to infrastructure in Kakheti. Kvareli will soon be unrecognizable, he said, thanks to the many changes planned in the region. The modernization project will focus on that town, as well as Telavi, Akhmeta, and Gurjaani.
"Kakheti had a huge untapped potential. This part of Georgia has enormous potential for tourism; hospitality is in our genes, but this part of our nature was completely unusable for a long time. In the past few years, Kakheti was not considered a tourist destination... But we will spend hundreds of millions [of lari] from this year, in order to transform this region into a much better place," the President said.