Shashkin emphasizes importance of education to Georgian youth
By Salome Modebadze
Wednesday, February 29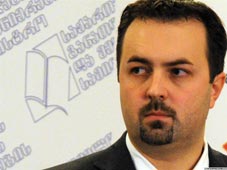 Speaking to a group of Georgian schoolchildren, Minister of Education and Science Dmitri Shashkin emphasized the importance of education and outlined a series of initiatives planned by his ministry.
First, Shashkin introduced a new method of primary school registration. During the first two weeks of April, the Ministry of Education and Science (MES) will allow students and teachers in public schools to "grandfather" their siblings or children into that same school.
Those first graders who have either siblings or parents studying or working at a particular school will be able to register at that same school, Shashkin announced at Teachers' House on Monday. For all the other entrants, a special electronic registration will be accessible online from April 15. Although the MES does not limit a family's choice of school, the minister stressed that schools in the suburbs are perceived as better than those in central districts and this creates competition.
Speaking of the importance of education with pupils, Shashkin noted the role of teachers in Georgia's ongoing educational reforms. He emphasized changes to classroom management, saying that teachers should improve their skills and abilities instead of shouting at or ignoring children, as a teacher's knowledge reflects on his or her pupils. "The [teacher] certification exams are the weapons we use for your education," he told the children.
Shashkin also affirmed that parents can choose whether they want their children to enter school at the age of five or not. Based on the classes of the previous year, he said that the younger children have successfully completed their initial studies.
Georgian students are expected to pass exams in eight compulsory subjects (Georgian language and literature; mathematics; history; geography; biology; chemistry; physics; foreign languages), which begin at the end of May and last until August 1. Once successfully meeting the 5.5 grade point barrier, graduates prepare for the Unified National Exams (NAEC) and may continue their studies at one of 20 national universities.
To ensure competitiveness with North American and European universities, the MES is considering introducing the International Baccalaureate (IB) program at Georgian schools with highly-developed education standards
"We are talking about new values," Shashkin said, emphasizing that without finishing grade 12, Georgian pupils will not have a chance to continue with higher education abroad because of differing standards. He said in order to avoid becoming "a mini Soviet Union" with its closed borders, Georgia should have graduation certificates approved by schools in the United States and Europe.
The Ministry is also seeking to provide students with opportunities for summer jobs, working in hospitality, construction, or other industries across Georgia. With such a change of pace from school, students will learn new skills and appreciate new values, Shashkin said.
The Minister also lightheartedly noted that students probably do not understand the importance of education to their future right now, which is why the government insists they attend classes. He explained that education will give pupils the skills and abilities they need for future decision-making.
Shashkin advised all young people to think carefully before choosing their future career, explaining that not everyone in the world works in their chosen profession. He assured them, though, that a good education, sound knowledge of the global market, and some self-confidence will point them in the right direction.