Georgia to establish visa-free regime with Russia
By Ernest Petrosyan
Thursday, March 1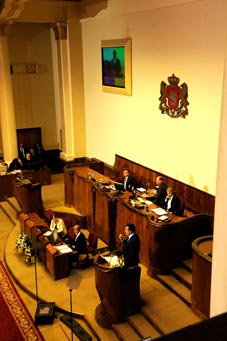 During his annual report to Parliament on Tuesday, President Mikheil Saakashvili announced that Georgia is unilaterally abolishing visa requirements for citizens of the Russian Federation, "to give a greater chance to peace".
Since October 2010, Georgia has granted 90-day visa-free entry to those Russian citizens registered as residents of Russia's republics in the North Caucasus, while other Russian citizens must obtain a visa upon arrival in Georgia.
"While deepening close ties with the West, we are simultaneously interested in improving relations with Russia. We know it is not easy, but Russia is and will always be our neighbour, which determines our desire to have peace... But it must be a peace with Russia that recognizes and complies with all the international legal norms of relations between two sovereign countries," Saakashvili said.
He noted that the recent WTO deal with Russia was a good example of the possibility "to reach a result even if you stand firm on your principles".
"We welcome economic ties with Russia. So we are ready to give a greater chance to peace, and we put forth the new initiative to lift the visa regime with Russia unilaterally," he asserted.
"Let every Russian business[person] know that they can come to Georgia, invest in Georgia, make business in Georgia, employ people in Georgia, and they will be protected here like any other representative of other countries… Let Russian tourists know that they may arrive here at any time," he said, adding that in Georgia no one would "ban them from drinking Georgian wine and Borjomi, which they miss so much". Russia banned the import of Georgian wine and mineral waters in 2006.
Deputy Foreign Minister David Jalagania hailed the President's initiative, hoping that it will be well-received by the Russian Federation. As Jalagania said before the parliamentary debate, this initiative is a continuation of the friendly policy Georgia has towards its neighbours.
"I would like to remind [you] that the visa regime between Russia and Georgia was established not by Georgian initiative. Despite aggression and further occupation of Georgian territories, we separate the Russian people from Kremlin policy," he said.
Political analyst and former Georgian Ambassador to Moscow, Zurab Abashidze, also hailed the policy, as it may attract more tourists to Georgia. "It will be good for Georgians living in Russia, who are mainly Russian citizens. It is also a positive message to Russian society that we do not have any problems with Russia," Abashidze said.
However, Caucasian affairs analyst Mamuka Areshidze believes that the President's plan to unilaterally remove the visa regime with Russia will not change much, as this proposal is, in reality, oriented towards the West. According to Areshidze, Russia will not make any progressive steps in this regard and will completely ignore this initiative. Besides, Russian citizens have not faced any visa problems as of yet, he added.
"I think that this approach is oriented not towards the improvement of Russian-Georgia ties, but it is to show the West some positive steps from Georgia. The Georgian government will be able to say that the recommendations from the West to improve relations were considered and adequate steps have been made," Areshidze maintained.