EU free trade negotiations formally announced
By Lera Khubunaia
Thursday, March 1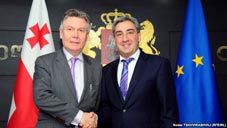 Prime Minister Nika Gilauri met with EU Trade Commissioner Karel De Gucht in the Georgian Chancellery on Tuesday, to discuss the opening of free trade negotiations.
At the subsequent press conference, Gilauri thanked the Commissioner for his continued support for Georgia.
"In December, at the last meeting in Brussels between Georgia and the EU, we announced our plans to start free trade negotiations," Gilauri said. "I want to give personal thanks to [Mr.] De Gucht for his support for Georgia. It was not an easy decision and easy negotiations [but] after a few months of technical cooperation we started the official discussion between Georgia and the EU in December." An initial preparatory meeting was held on January 31.
The Georgian government hopes that a free trade agreement will increase economic convergence with Europe, by attracting additional investment and boosting exports.
During the meeting, the Commissioner said that the process of negotiation with Georgia is expected to take less than four years; in comparison, less time than was required of Ukraine. De Gucht did not discuss possible end dates, but concentrated more on the speed of the process.
"Our goal is to act quickly, but at the same time we must fulfill everything that we have envisioned. So to say, we should not damage the quality of our negotiation with our impatience," he said. "We are planning [to] work, and working on this negotiation is our priority; but we will also need some time in order to accomplish everything as we plan it."
According to the Commissioner office, the first round of negotiations with Georgia will be held between March 26-30.