Changes to drug policy focus on rehabilitation
By Salome Modebadze
Friday, March 2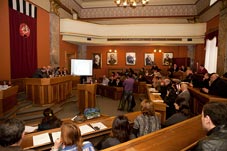 First Deputy Prosecutor Davit Sakvarelidze spoke in Parliament on Thursday, presenting data on drug crime in Georgia and supporting a new bill that will change drug policy across the country.
Sakvarelidze, alongside Deputy Minister of Justice Giorgi Vashadze, presented a report to Parliament about drug addiction and drug distribution in Georgia.
According to the report, drug crime has decreased 53% from 2007 to 2011. Although Sakvarelidze's research shows that the illegal circulation of "heavy" drugs on the black market has been significantly suspended by law enforcement and government policy, a survey reveals that Georgians still consider drug addiction to be the country's greatest social problem. Seventy-seven percent of those surveyed support the government's current drug policy.
Oriented towards protecting the interests of individuals, the government is making changes to drug-related legislation. Although the changes are aimed at liberalizing laws against drug addicts, both the administration and Parliament deny the possibility of legalizing "light" drugs.
While discussing the legislative drug policy package, Chair of the Health and Social Issues Committee Otar Toidze categorically opposed legalization of so-called "light drugs", explaining that with drug usage, "there is one single step from a light crime to a heavy one".
Sakvarelidze emphasized the achievements made in stabilizing the drug-crime situation in Georgia, stressing that "the government would not allow an explosion of the problem from the very beginning".
Changes to the drug policy will not include a lessening of punishments for drug dealers, a part of the current policy that is popular with the public.
Welcoming the start of great changes, Vashadze said that drug dealers will still be detained, but drug abusers will be provided with rehabilitation courses. An alternative rehabilitation centre is planned, to be financed by the money drug abusers pay as a fine.
MPs will debate changes to the drug policy next week.