UNDP, Ministry of Environment Discuss Results of Renewable Energy Initiative
Wednesday, March 7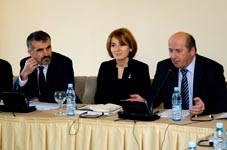 Construction and rehabilitation of the three small hydropower plants in the mountainous regions of Georgia; technical assistance to the five existing hydropower plants; establishment of the Renewable Energy Fund; launch of a specific credit line for renewable energy projects; and a pilot geothermal circulation system in Tbilisi benefiting more than 5,000 consumers – are the immediate results of the 8-year initiative implemented by the United Nations Development Programme (UNDP) with USD 4.3 million from the Global Environmental Facility (GEF).
The results and future prospects of this programme were discussed on 6 March at a workshop organised by UNDP and the Ministry of Environmental Protection of Georgia.
Speaking at the workshop, Minister of Environmental Protection Giorgi Khachidze said: "Recent developments in the world – whether in politics, economy or the environment, show that it is time for a sustainable and forward-looking energy policy. The use of renewable energy sources, like solar and hydro power, wind, geothermal energy and biomass is the way to ensure that production and industries pose no threat to the world and to the generations to come. For economies like Georgia it is the way to stay sustainable and to adjust to new energy realities."
UNDP made a thorough assessment of the renewable energy prospects in Georgia and developed a comprehensive strategy for removing the legal, administrative and technical barriers.
In 2010-2011 UNDP assisted the private banks and investors in receiving loans from the Renewable Energy Fund with Euro 5 million provided by the German Development Bank (KfW) for the construction of small hydro power plants.
To implement this strategic initiative UNDP closely worked with the Ministry of Environmental Protection, Ministry of Energy and Natural Resources, Ministry of Finance and the Ministry of Regional Development and Infrastructure of Georgia, as well as with the Tbilisi City Hall, local authorities in the regions of Racha, Kakheti and Mtskheta-Mtianeti, banks and private companies.
"UNDP sees its role as assisting to apply an integrated development approach to energy issues. Georgia's potential for the development of renewable energies is tremendous. In the mountainous regions these resources can dramatically increase life standards and support local production and businesses," Sophie Kemkhadze, Deputy Resident Representative of UNDP in Georgia said.
As part of its Environment and Energy programme, UNDP will continue its assistance to Georgia to create a more sustainable, cleaner and safer environment by making wiser energy choices.