NATO remains committed to "open-door policy": Rasmussen
By Ernest Petrosyan
Wednesday, March 7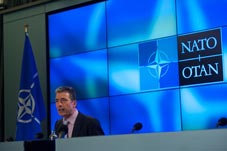 During his monthly press briefing at NATO headquarters, Secretary-General Anders Fogh Rasmussen insisted that "no third country… no third party, can make decisions on behalf of NATO," and affirmed his commitment to the alliance's open-door policy.
"NATO decides our own open-door policy. And NATO's door remains open. And that will be reiterated in Chicago. NATO's door remains open to European countries that are in a position to contribute to the security of the North Atlantic region, and countries that are in a position to further the principles on which NATO is based. This is clearly stated in Article 10 of our Treaty," he maintained.
As an example of such independent decision-making, Rasmussen recalled the 2008 Bucharest summit, at which Georgia was promised to be "finally" accepted.
"I would like to recall the decision we made in Bucharest in 2008… according to which Georgia will become a member of NATO. Of course, provided that Georgia fulfils all necessary criteria and that we cooperate with Georgia within the NATO-Georgia Commission to make progress in that direction," he remarked.
At the briefing, Rasmussen also expressed readiness to continue to cooperate with Russia's newly elected President, Vladimir Putin, who in recent statements expressed opposition to NATO expansion, and especially Georgia's integration.
"I hope that we will now be able to move forward in other areas, especially on missile defense. I think both Russia and NATO would benefit from such cooperation. In Lisbon, we decided to develop a true strategic partnership between NATO and Russia and I hope to see progress in that respect," he continued.
However, the Secretary-General also observed the results of the Russian elections, and echoed the concerns of the OSCE and Council of Europe election monitors. "From what I have seen from initial reports, the outcome is likely to be continuity in Russia's leadership and Russia's policies. And I would expect that continuity to include a continued engagement in positive dialogue and cooperation as we agreed at the NATO-Russia Summit in Lisbon in November 2010," he said.
The Georgian government, meanwhile, has high hopes of being granted a membership action plan at the Chicago summit this spring.