USAID Offers New Economic Opportunities To Rural Regions
By Etuna Tsotniashvili
Wednesday, March 7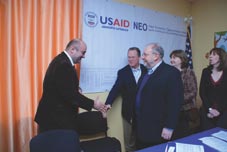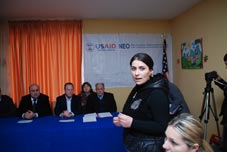 On Tuesday, March 6, U.S. Acting Assistant Secretary of State for Population, Refugees, and Migration David M. Robinson, and USAID Mission Director Stephen Haykin, joined the Governor of Shida Kartli region Giorgi Tatishvili and representatives of the Gori Municipality at a community meeting on economic development initiatives in Shavshvebi. At the meeting, the representatives of USAID and the Gori Municipality also signed a Memorandum of Understanding on cooperation through USAID's New Economic Opportunities (NEO) Initiative.
At a ceremony held in village Shavshvebi of Gori municipality, Chair of the Municipality Council Zviad Khmaladze expressed his gratitude towards the U.S. government and the American people, as projects being implemented by NEO in the municipalities and communities throughout Georgia are made possible through their assistance.
"Today's memorandum will promote a new community development project in which the local community will be actively involved, and various infrastructure projects will be implemented. Local communities themselves identify both the problem and the means of its solution. [The memorandum] will be oriented towards strengthening the role of the village," Khmaladze said.
USAID Mission Director Haykin highlighted the importance of such projects to the rural regions, particularly for those affected by the 2008 war with Russia. "The priority of this project is to empower communities that are still feeling the effect of the 2008 conflict, [and] to advance their economic wellbeing through various projects and activities that they are choosing as a priority. Today we signed a memorandum of understanding for this municipality, one of tens of NEO's in Georgia," he told the audience.
Acting Assistant Secretary of State PRM Robinson is paying an official visit to Georgia to assess assistance to IDPs and refugees and consult with partners in such efforts, including the Government of Georgia. He expressed his gratitude towards the local and central government of Georgia for their attempt to improve living conditions for the IDPs.
"My goal was to review some of the projects that we have for persons displaced in the '90s and after the 2008 conflict. So, we have viewed some of the new housing that has been developed for the IDPs," Robinson told
The Messenger
. "The value of the project will really depend on what the community wants to make the value of the project. They establish the priorities and we respond to them," he added.
Robinson and Hayikin met with the Shavshvebi community, where residents introduced them to both their successes and problems.
Irina Makishvili, a resident of Shavshvebi, spoke about the infrastructure situation in nearby villages. She mentioned irrigation system and water problems.
Jemal Dudashvili also mentioned water, in the context of agricultural development. According to him, the regions have the potential for a good harvest of fruit and grapes. However, the water which once supplied the area is sourced in South Ossetia, so since 2008 the villages have suffered from a lack of water. This has affected not only agriculture, but personal gardens and trees. The population would usually use those trees as firewood during the winter. As Dudashvili remarked, locals cut trees in nearby forests; now those forests are in disputed territory.
Residents have responded by planting crops that need little water, such as beans and corn.
Community working group member Ioseb Turashvili spoke about issues specific to IDPs. He said they have been granted plots of land in order to be able to generate income, and the government has done its best to build houses for IDP families in a very short time. More than 200 well-equipped "cottages" were built in Khurvaleti and Shavshvebi to accommodate these families. In Shavshvebi, IDPs have gas, but the Khurvaleti settlement still has problems in this regard.
Turashvili also emphasized that the local population has very good relations with IDPs in both of the villages, and thanks to marriages, some are even family now.
NEO is a program funded by the U.S. Government through USAID that is designed to help municipalities and communities like Shavshvebi to access larger economic markets, attract investment, and identify and implement infrastructure projects with direct economic benefits. During its operation, the project will benefit at least 70,000 rural and vulnerable households in 10 municipalities (Dusheti, Stepantsminda, Kareli, Gori, Khashuri, Oni, Tsageri, Lentekhi, Zugdidi, Tsalenjikha). The project will result in sustainable poverty reduction, improved living standards for vulnerable populations, including IDPs, and increased local government participation in addressing community needs.