Putin: no change in policy towards Georgia
By Ernest Petrosyan
Friday, March 9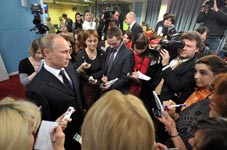 Russian President-elect Vladimir Putin's post-election statements have dissolved any optimism for improving Russian-Georgian relations.
Speaking with journalists on Wednesday, Putin claimed that Russia "has special relations with the Georgian people" and expressed hope that "a solution will be found" to improve relations between Moscow and Tbilisi.
Putin made these remarks after he was asked by Tbilisi-based Imedi TV how he saw relations between the two countries changing under his presidency, especially in light of Russia's recognition of Abkhazia and South Ossetia.
"How could anyone like a decision to attack peacekeepers?" Putin asked, referring to the August 2008 war. "No one liked it, especially in Russia no one liked it, especially when people died… That's the result of actions of Georgia's current leadership, not ours," he maintained.
"We have said it multiple times and I want to stress it once again: we have special relations with the Georgian people and we hope that a solution will be found. But it is now premature to speak about it and probably has no point," responded Putin, reaffirming his compliments to the Georgian people, the majority of whom are not eligible to travel to Russia under the current visa regime.
In his remarks, Putin asked that foreign policy questions be relayed to the current President. "Today, Dmitry Anatolevich Medvedev is the President of the Russian Federation and he is in charge of foreign policy so please direct questions to him," Putin said.
Asked whether Russia would match Georgia's unilateral decision to lift the visa requirement for Russia citizens, Putin claimed that Russia has a visa-free regime with all Commonwealth of Independent States countries, and that the visa regime was introduced due to "well-known events".
Asked whether relations will remain unchanged during his six-year term, Putin dryly asked in response, "When [are there] elections in Georgia?"
"What do you want from Russia, to make Abkhazia and South Ossetia forcibly join Georgia?" he asked a Georgian journalist, who answered that the withdrawal of Russian troops is what the Georgian government demands. "So what, you [Georgian troops] will re-enter there? It will happen, and it had already happened".
"We've talked many times about this issue with Mikheil Nikolayevich [Saakashvili]. I told him many times and there is nothing to hide about it: 'Mikheil Nikolayevich, do not lead the process to bloodshed… You should build relations with these people'. He told me: 'Yes, of course, definitely. We'll do that'," Putin said, adding that Saakashvili did not follow his pledge.
Putin's post-election remarks have been categorized as ambivalent. In his pre-election campaign, Putin was surprisingly forthright, announcing that one goal of the August war was to prevent Georgia's accession into NATO and the subsequent placement of NATO missiles on Georgian territory.
The reaction of Georgian officials to his comments remains firm and uncompromising. The Secretary of the Georgian Security Council, Giga Bokeria, classified Putin's "anti-Georgian policy" as nothing new. "The difference between Georgia of 1921, when Soviet Russia invaded Georgia, and today's Georgia, is that today Georgia is better protected, the international community is more actively involved in this processes. Herewith, we will continue a policy that is in absolute harmony with our views. We will activate contacts with ordinary Russian citizens. We will host Russian tourists, Russian business people, and thereby will enhance our economy," Bokeria said.