Project helps female inmates make art, learn new skills
By Etuna Tsotniashvili
Friday, March 9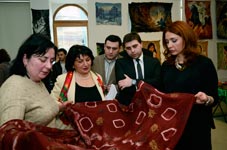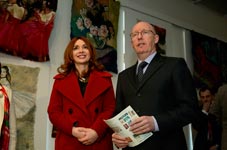 On the eve of International Women's Day, an exhibition titled "Arts for Dignity" was held at Europe House, where artwork created by female inmates in Georgian prisons was presented.
The exhibition was organized by Women in Business, with the support of the Ministry of Corrections and Legal Assistance, the United Nations Office in Georgia, the EU Delegation to Georgia, Penal Reform International, and the Norwegian Women's Training Trust.
Since 2008, organizers have implemented a project called "Assistance to the Rehabilitation and Re-socialization of Convicted Women Prisoners thorough Vocational Training". Within the scope of the project, a Vocational Training Centre was established in women's pre-trial and semi-open penitentiary facility N5, where female inmates completing their sentences have an opportunity to acquire business skills though support from the EU. In 2012, the association implemented a project "supporting the re-socializing of women prisoners, which aims to facilitate the re-socialization of women prisoners and [provide] for their gender-specific needs".
Minister of Corrections and Legal Assistance, Khatuna Kalmakhelidze, attended the event and thanked the organizers for their support and encouragement of female inmates. According to Kalmakhelidze, the Ministry pays great attention to the rehabilitation process and this program has developed very successfully.
"We pay great attention to such activities and the female inmates are interested in it. Time after time, we organize exhibitions and income is transferred to those inmates, which encourages them for future work. I personally have several [pieces] by inmates and I am going to buy some of them now. Everyone likes them and I am very glad of it," she remarked.
United Nations Development Programme Resident Representative in Georgia, Jamie McGoldrick, welcomed this initiative, calling it a very good way to motivate female inmates, as their lives are not easy. He also thanked the Georgian government for their attempt to help those women.
"I am very happy to be here on behalf of the UN to support the government of Georgia, because Georgia has done a lot of work for women's empowerment in this country and we believe that this is an example of how to care for women despite the circumstances they find themselves in," McGoldrick said.
"If you can allow them to express themselves, some of their difficulties and challenges, in a very creative way... [it] helps the rehabilitation and re-socializing process. Obviously there are some possibilities for future income or future jobs and I think this is a very promising possibility," he told The Messenger.
"Psycho-social rehabilitation is very useful for inmates and such special courses have a very big importance to them. It helps inmates to spend time purposefully and not waste it. It will be very helpful for them when they are released from jail; they will know this profession, which they will use after they come back to [their] homes," Tsira Chanturia, Director of Penal Reform International in Georgia, said.
Nino Elizbarashvili from Women in Business says that women are very interested in these activities and interest has been increasing for some time. She noted that 150 inmates had participated in this exhibition, and it was the fourth such show held in Georgia.
Nana Akhvlediani teaches female inmates how to work with felt. According to her, women are motivated to create artwork and to learn from it. Akhvlediani says that it is the best way to spend their years in prison usefully, and they get great pleasure from making art. "Some of them have to spend 10-15 years in jail, so what can they do there? They try to use the time to learn some skills that will be useful in their future career after release," she told
The Messenger
.
"I liked the artwork by women inmates. People try to find outlets for their creativity, so I am sure it helps them to spend time in prison, which must be difficult," Claire Scarratt of the British Embassy remarked while viewing the exhibition.
All proceeds from the sale will benefit female prisoners.