Saakashvili cements good relations with Azerbaijan in Baku
By Salome Modebadze
Friday, March 9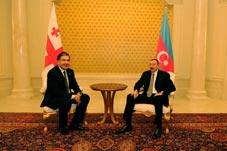 Georgian President Mikheil Saakashvili addressed Milli Majlis, the Parliament of Azerbaijan, on Wednesday. During his two-day visit to the capital of Baku, Saakashvili underlined the importance of a strategic partnership between the two neighbouring countries, which "is not directed against anyone".
Explaining that Russian leaders' recent suggestion to create a Eurasian Union would merely end the independence of Russia's neighbours, Saakashvili emphasized that "people will not give up their freedom, nations their independence, and countries their right to choose their own path."
Saying it is better to have "a strong neighbour than an unstable vassal" Saakashvili said he is dreaming about "a proud and stable Russian Federation, sure of its own strength and its own path, a country that would not need to humiliate others in order to prove to itself an illusory greatness… a country that would have secure, safe, and clear borders and not constantly moving margins".
The President believes that those Russian "patriots" who want to give the power stolen by weak leadership back to the Russian people are not Georgia's enemies, but "partners and brothers". Stressing the impossibility of changing geography, Saakashvili expressed his confidence that one day Georgia and Russia would build "a common space of peace and cooperation".
"This future will be named 'European Union' and 'NATO'," he said, emphasizing the importance of visa abolition with Russia and encouraged his northern neighbours to stop occupying one other's lands, and using ethnic cleansing and religious divides as policy tools.
Saakashvili recalled how Georgian and Azeri people stood together "against the powerful invaders" throughout the centuries. Citing the 1919 treaty against Russian forces, Saakashvili noted how the signatories acted together against any attack threatening the independence or territorial integrity of one or both republics.
According to the President, the ties between Georgia and Azerbaijan have become stronger than ever under the leadership of President Ilham Aliyev and "identical views of our two governments for the future of the region". Even the most ruthless repression could not kill their dream of freedom during their attempt "to build modern, democratic, western oriented states and societies in the Caucasus," he maintained.
"There were turbulent, chaotic moments, and we both had more than our share of wars, tragedies, disillusions, and dramatic experiences. But here we are standing, freer and stronger than ever," he said, stressing that "this time, ghosts from the period of slavery cannot prevail over the thirst for freedom".
On his first day in Baku, Saakashvili met President Aliyev and praised the relations between the two countries, which he says give others an example of what bilateral relations should be. "If every country cooperated like this with each other, we would have the fastest developing region," he said.
Saakashvili welcomed Azerbaijan's leading position in the region and its role in global politics. Sharing plans for the Kars-Tbilisi-Akhalkalaki railway connecting Georgia, Azerbaijan and Turkey, Saakashvili called it a window of the region into Europe.
Expanding cooperation in the energy sector, Georgia and Azerbaijan intend to create a company to jointly export electricity to other countries. By investing more money in the construction of hydroelectric power plants, Azerbaijan will help Georgia to develop its electricity capacity and grow the potential Georgia has in the energy sector.
Welcoming Georgia's successful development, President Aliyev expressed his confidence that all problems that country is facing will be solved under Saakashvili's leadership.
Speaking of the importance of their cooperation for the region, Aliyev stressed that Georgian-Azeri relations have gone beyond regional boundaries, and their joint initiatives have become internationally important. "I can say that Azerbaijan will continue to support Georgia in all international organizations. And I am sure that we will receive similar support from you in the future," he said.
By signing an agreement on cooperation in the spheres of sports and statistics, Tbilisi and Baku intend to make a joint bid to host the UEFA European Football Championship. The bidding process to host EURO 2020 will start this year and the host is expected to be announced in 2014.
The details about the bid's odds will become clear on March 21 at UEFA's congress meeting in Istanbul, Turkey. As the Minister of Sport and Youth Affairs of Georgia said, after the countries jointly apply to UEFA, they will cooperate with various committees to satisfy international demands. UEFA regularly publishes lists of necessary infrastructure, from stadiums to airports to hotels, which countries must possess – but as Minister Lado Vardzelashvili noted, Georgia and Azerbaijan have taken joint obligation to fulfill these requirements.
Zurab Abashidze, a political analyst and Georgia's former Ambassador to Russia, welcomed cooperation between Georgia and Azerbaijan, but doubted the "new prospective" in Georgia-Russian relations. As Abashidze told
The Messenger
, greater economic and trade relations between Georgia and Azerbaijan will be beneficial to Georgia, especially any increase in Azeri investments. "We should welcome good relations between Georgia and Azerbaijan," he said.