First round of Abkhaz parliamentary elections complete
By Ernest Petrosyan
Monday, March 12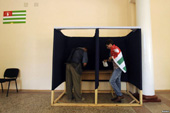 Elections conducted in Abkhazia on March 10, to choose a 35-member Parliament, were assessed as valid by the breakaway region's Central Election Commission (CEC).
Approximately 29% of voters cast their ballots five hours before the closure of polling stations, while only 44.5% of the population took part in the elections, according to the CEC.
Voters cast ballots in 174 polling stations to elect Abkhazia's legislative body for a five-year term. According to the Abkhaz constitution, Parliament members are elected through a majoritarian system in single-mandate constituencies.
Chairman of the CEC, Batal Tabaghua, said that voting occurred in calm and normal conditions, Abkhaz news agency Apsnipress reports. He also noted that a second round of elections will be held.
According to the CEC, a total of 148 candidates are running for seats in Parliament, including 16 women and 21 incumbent lawmakers. Only 34 contenders have been nominated by political parties, with others running as independent candidates nominated by "initiative groups". The ruling party, United Abkhazia, and the opposition Forum for the National Unity of Abkhazia, led by Raul Khajimba, have nominated 11 candidates each.
Six candidates have been nominated by the Party of the Economic Development, led by Beslan Butba and the same number of candidates are running for the Communist Party.
There are two ethnic Georgians among the nominees, Apsnipress reports. Ethnic Abkhaz make up 125 of the candidates, alongside nine Armenians, eight Russians, two Greeks, one Ossetian, and one Kabardian.
Georgia's position regarding any kind of elections in the breakaway regions remains unchanged. The elections were denounced as illegitimate by Tbilisi and some members of the international community, with the exception of Russia and those states that have recognized Abkhazia as an independent country.
The parliamentary elections come less than seven months after the snap presidential election, in which Alexander Ankvab was elected as the new leader, and less than three weeks after a failed assassination attempt on the President's life.
The Russian Foreign Ministry attributed the attack to an attempt at destabilizing the political situation ahead of the parliamentary elections.
Ankvab himself blamed "mafia, criminal groups" and those "political circles" connected to them.
The President's motorcade was attacked on February 22, resulting in the deaths of two of his bodyguards.