Bill in U.S. Senate supports Georgian NATO aspirations
By Gvantsa Gabekhadze
Monday, March 12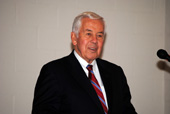 Those four nations currently seeking accession into NATO – Bosnia and Herzegovina, Georgia, Macedonia, and Montenegro – are to be considered NATO "aspirants," according to a bill introduced in the United States Senate.
The NATO Enhancement Act, sponsored by Republican Senator Richard Lugar, seeks to encourage further enlargement of the North Atlantic Treaty Organization and to deepen U.S. strategic partnerships with NATO allies.
Senator Lugar has urged President Obama to provide a clear road map for the accession of the four states at the NATO Chicago Summit in May 2012.
The act also requires a report to Congress on American efforts to facilitate further NATO enlargement, on the readiness of Bosnia, Georgia, Macedonia, and Montenegro to join NATO, and on U.S. policies to uphold Georgia's sovereignty and territorial integrity. He emphasized that the prospect of membership in NATO has not only improved regional security, it is helping to transform those aspirant nations into close economic and national security partners of the United States.
"I am hopeful that the Senate will pass this measure before the NATO Summit in Chicago this May," Lugar said.
Georgia was previously referred to as an "aspirant" country in the final statement of a NATO foreign ministerial meeting in Brussels on December 7, 2011. Russian Foreign Minister Sergey Lavrov protested this language, saying that such statements might encourage President Mikheil Saakashvili to undertake "an adventure similar to the one of August, 2008".
Georgia is becoming closer to the Alliance, "regardless of what other parties might say," James Appathurai, the NATO Secretary General's Special Representative for the Caucasus and Central Asia, stated recently. However, he also underlined that Georgia's accession into NATO is only possible once Georgia has met the organization's standards.
The Georgian government believes wholeheartedly in the country's ability to join NATO, and note that the serious reforms carried out across the country have been noticed and appreciated by the international community. Supportive statements made by influential political representatives bolster their position, they say.
Such a positive outlook is not shared by some Georgian opposition parties. While there is broad support for Georgian NATO membership across the country, some politicians doubt that it is possible under the current Georgian leadership.