Japan looking to the future one year after natural disasters
By Ernest Petrosyan
Monday, March 12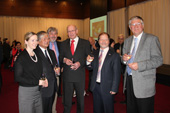 To commemorate the one year anniversary of the devastating 9.0-magnitude earthquake which unleashed a devastating tsunami on his homeland, Japanese Ambassador Masayoshi Kamohara held a reception at Radisson Blu Iveria March 9, at which he discussed the country's progress.
On March 11, 2011, the two natural disasters caused widespread destruction, left almost 22,000 people dead or missing, and triggered a nuclear crisis at the Fukushima Daiichi nuclear plant. Nearly 80,000 people across the region have been forced to leave their homes due to radiation fears.
Japanese Ambassador Kamohara spoke to The Messenger, noting that the recovery process was a very complex mission for the Japanese government, but that they have been helped by the contributions of the citizens. "I think the Japanese people stayed very calm and they helped each other so well that for a certain period they did not even need help from the government," Kamohara said.
According to the Ambassador, some damaged areas are still in the process of recovery, and there are still some areas where the reconstruction process has not yet begun. "Of course, we cannot do everything at once, but I think we are moving steadily forward. In Japanese we have a saying: 'If you have bad things you can make out of it a good thing'," he added.
He spoke of the new possibilities recovery and rebuilding can bring to Japan. "I think it is a good chance for our agriculture to become competitive in [the] world market. It will be a good reason to restructure our whole agricultural system. Also in terms of fishery or in terms of industry, many experts are trying to work out which system would be the best to make out of the disaster a more prosperous Japan," he said.
As for the energy security issue, Kamohara noted that alternative energy resources should gradually replace nuclear energy. Nonetheless, he noted that Japan cannot refuse nuclear energy as there are no ways to import electricity.
"Of course now the great majority of Japanese people are against the nuclear electric plants, but if we stick to this without paying attention to how safe we can make it, and more resistible to earthquakes and tsunamis, the cost of electricity will be higher and higher, because natural gas is much more expensive than uranium. Of course, it is a balance between psychology and economy. Everybody would be happy if we finally can get rid of nuclear energy," he remarked.
Kamohara also emphasized that Japan has unique challenges that other countries do not – but also unique advantages. "For instance, Germany decided [to back away] from nuclear energy, but in case of emergency they can easily import electricity from neighbouring countries to replace the electricity generated by their nuclear plants. We cannot do that. We need more time to convert the present system to a new system combined with various types of generation systems. We can use volcano energy, waves can also generate electricity. The thing is how to improve these systems," he said.