Saakashvili announces programs for large families, pensioners, and farmers
By Lera Khubunaia
Monday, March 12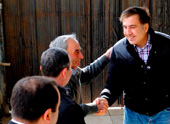 On March 9, President Mikheil Saakashvili visited a family of eight in the village of Berbuki to discuss the needs of rural Georgians.
Saakashvili expressed interest in the Rusitashvili family's problems, and discussed his new initiatives aimed at children and families. He referred to a new health insurance policy, professional training opportunities, and employment for children under 18 and pensioners.
One of the goals of current government policy is to help large families. According to Saakashvili, these new programs will be important for those families that contain four children and/or two pensioners.
"Four children will be insured [for health care] from next year. New hospitals are opening and health insurance will be important in order to get proper treatment there. In addition, a new 140 GEL pension package will be created... as medication prices are increasing fourfold," Saakashvili announced. "Also there will be 1000 GEL training vouchers, which will give a person a chance to learn a new profession and improve his or her skills."
He also mentioned that the government is working hard to solve the unemployment problem.
Saakashvili drew attention to the need to develop the agricultural sector, and noted that farmers must have all the equipment necessary for spring harvest. As for agricultural mechanization, the President mentioned that a "couple hundred" new tractors are coming. There are 12 mechanization centres in the regions, and the agricultural machinery will be available for all farmers to use. In Shida Kareli, Kareli, and Kaspi, two new centres will open.
During his conversation with the Rusitashvilis, Saakashvili expressed interest in electricity expenses. He acknowledged that the government's recent 20 GEL electricity voucher is a small amount of money, but for many people in the villages, for whom each tetri is important, the voucher will be useful, as families may have only 6-7 GEL monthly payments.
During the meeting, the family conveyed the important issues in their village to Saakashvili. They noted that, like much of their village, they earn their living through agriculture, and the 30 GEL spring labour voucher, which Rusitashvili family has already used, was very helpful.
"This voucher is very helpful, for families like this. I am glad that it is really working. At first, I thought what kind of consequence could it bring? But at least some part of the land could be cultivated with 30 GEL," Saakashvili said. "The purpose of the voucher was to stimulate [the incomes of] village people and this worked well".
Otar Rusitashvili gave the President a tour of his home and harvested crops. According to Rusitashvili, last year's corn crop brought them many benefits, even though it was planted in a small plot of land.