Body of missing Georgian-Canadian girl found in Toronto
By Salome Modebadze
Monday, March 12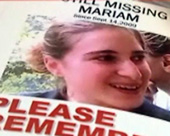 Missing Georgian girl Mariam Makhniashvili has been found dead in Toronto, Canada after more than two years of searching.
On Friday, Greg McLane, Staff Inspector for the homicide squad, confirmed the identification of human remains found to be Makhniashvili.
According to Toronto Police, the skeletal remains discovered last week in a wooded ravine in the suburb of North York belong to the Georgian teenager, who fell 16 metres from a highway 401 overpass. Makhniashvili was "more than likely" alive at the time of the fall although her death is not considered to be a homicide or suspicious. The police suspect suicide.
Detective Sergeant Dan Nealon, who led Makhniashvili's case, said the girl's parents never spoke of her psychological problems, but as Nealon said she acted introverted before her disappearance on September 14, 2009.
"In retrospect, you could then see [she was] an introvert and a bookworm and kept to herself," Nealon said, assuming that this could have been as a result of isolation and depression, but called such suspicions at this point all "purely speculative".
Makhniashvili was 17 when she was last seen at Forest Hill Collegiate with her younger brother, before she went missing. The siblings had parted ways outside the building and entered from different doorways.
Police conducted hundreds of interviews, reviewed numerous surveillance tapes, and followed up on multiple tips, but the only real clue was the discovery of the girl's backpack and some school books in a parking lot not far from her school a month later.
"Most missing people, when they do go, there is some sort of trail that leads the police somewhere and in this case there was not any," Nealon remarked.
On February 28, police contacted Makhniashvili's mother, Lela Tabidze, to inform her of the tragic news. The victim's father, Vakhtang Makhniashvili, remains in a Toronto prison for three counts of aggravated assault, serving a sentence of six years.
Despite the discovery of her body, Makhniashvili's case has yet to be closed. Video footage from the highway will be examined as part of an ongoing investigation, and construction crews working in the area will also be interviewed.