New plan on mother and child health announced
Friday, March 9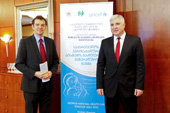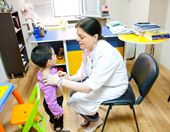 A new Perinatal System-Strengthening Master Plan was presented by Minister of Labour, Health and Social Affairs Andria Urushadze at a recent meeting attended by leading Georgian obstetricians, gynecologists, neonatologists, professional associations, health care specialists, international organizations, and UNICEF.
The Perinatal System-Strengthening Master Plan was developed by the Ministry of Labour, Health and Social Affairs in association with the Reproductive Health Council of Georgia and UNICEF. Technical support was provided by experts from the Sheba Medical Center of Israel.
The Master Plan stems out of the Georgia National Health Care Strategy 2011-2015. Aiming at strengthening the perinatal system in Georgia for the next 10-15 years, the document directly addresses one of the objectives of the Master Plan – access to quality maternal and child health services – and hopes to ensure that every child has the best possible start in life.
"During the last five years, child mortality in Georgia has been reduced by two-thirds," Urushadze said. "The death of each child is a tragedy not only for one specific family, but for the whole country. That is why we developed the new Strategic Plan to avoid mistakes by medical personnel".
The Master Plan identifies the key areas of work and provides recommendations and solutions. Components of the Plan include: policy, financing, organization of services, infrastructure, human resources, quality, and information systems. The development of clinical care standards in the field of perinatology, as part of the capacity-strengthening and quality-related recommendations, was already initiated by the government last year.
"Considerable progress has been achieved in Georgia over the last couple of years to reduce child and maternal mortality. I would like to [acknowledge] the efforts of the government of Georgia in this regard, and also to thank medical experts from the Israeli Sheba Clinic for their tremendous support in the development of the Perinatal System Master Plan," said Roeland Monasch, UNICEF Representative in Georgia.
"However, there are still challenges and we hope that the Master Plan will help to ensure that all pregnant women and children have access to quality maternity, neonatal, and general pediatric care and that health providers dealing with maternal and child health at different levels have enough experience and skills to provide such quality care. UNICEF will continue to work with the government of Georgia to further improve prenatal and neonatal health care and to implement the Master Plan," he added.
Nearly 58% of all child deaths in Georgia occur within the first 28 days after birth. The main causes are prematurity, asphyxia, and infections/pneumonia, together comprising more than three-quarters of neonatal deaths. These causes are closely related to the health of the mother during her pregnancy, the circumstances of her delivery, and the first critical hours after birth. Much of the morbidity and mortality among children in Georgia is preventable.