Government re-affirms reintegration strategy
By Ernest Petrosyan
Wednesday, March 14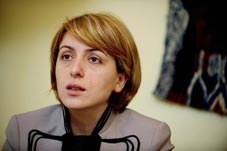 Georgian State Minister for Reintegration Issues, Eka Tkeshelashvili, presented the state strategy on reintegration to members of Parliament at a closed-door session, due to the "sensitivity" of the issue. According to Tkeshelashvili, the implementation of the Georgian government's engagement "has not slowed down"; on the contrary, efforts have intensified to build confidence and links between those people "living on the other side of occupation line".
"More and more state resources are being spent for this [purpose] – I cannot specify a concrete figure, because it's secret information; the resources of our partner [countries and organizations] are also being provided to promote confidence building," she later told journalists.
"Our main purpose, as long as our neighbour continues to occupy our regions, is to use every opportunity to restore the people-to-people links and restore the confidence which existed between them," Tkeshelashvili maintained.
She noted that confidence building "is not an easy process", or one that can be accomplished in a short-term period. However she added that "it's a must-do task".
The Minister also referred to the recent parliamentary elections in Abkhazia. She said that any kind of elections cannot be considered legitimate as the majority of the local population is internally displaced and cannot take part in elections.
"Georgia has achieved success as these territories have been recognized as occupied regions according to international law," said Chair of the Temporary Commission on Territorial Integrity, Shota Malashkhia. "There lives there a population that has specific problems. For such problems, a special document has been created in the scope of which can be seen what has been or should be implemented or improved".
Dimitry Sanakoev, head of the pro-Georgian Provisional Administrative Entity of South Ossetia, affirmed that his group is "actively working... issuing neutral passports to those living on the opposite side of occupation line. Within the framework of our program anyone who holds a neutral passport can acquire necessary medical services".
According to political analyst Giorgi Khutsishvili, the goal of these passports is to replace the broad acceptance of Russian passports in the breakaway regions. However, the project has not been as fruitful as it was expected to be. "This project was elaborated two years ago within a government strategy. There were hopes that many [residents] would accept it, and thereby replace Russian passports. In reality, only people who have personal problems accept these passports, and the majority of them are Georgians living in Gali," he said. He added that the neutral travel documents will not replace Russian passports since there are no regulations or incentives which encourage residents of the breakaway regions to refuse Russian documentation.