Saakashvili opens new tourism training centre
By Lera Khubunaia
Wednesday, March 14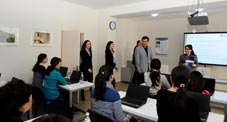 On Monday, President Mikheil Saakashvili attended the opening of the International Tourism Education Centre.
Saakashvili met with both prospective students and the general managers of various hotels, and discussed the future of Georgia's tourism industry.
"We had one million tourists in the first year of my presidency, and then it increased up to two million, the next year up to three million. With these tourism and infrastructure projects, we will increase the number of tourists up to 9 or 10 million," he announced.
Saakashvili also addressed prospective students directly, speaking about the importance of the new college. The centre will open on April 1, and is currently accepting applications for both full-term and short-term courses.
"With this program, all the applicants will be able to receive quality training not only in the field of service, but also in the field of management, which is very important," said Vera Kobalia, the Minister of Economics and Sustainable Development. "We know that there is a big demand for qualified employees, and this centre will give them a chance to get qualifications".
The goal of the centre is to be a tourism training program with international standards. Training will be administered using American and British programs, so all students must know English. After passing the course, graduates will receive diplomas and international certificates, qualifying them for internships and jobs in both Georgia and foreign countries, or to continue their education in undergraduate programs in various European countries. Students will also be able to apply for paid internships in Qatar and Doha, through the Starwood network of hotels.