Joint Georgian-American biological lab to open
Wednesday, March 14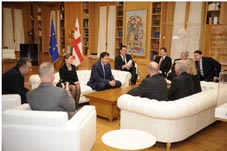 President Mikheil Saakashvili hosted Andrew C. Weber, the United States Assistant Secretary of Defense for Nuclear, Chemical, and Biological Defense Program, and the Head of Walter Reed Military Research Institute, along with a high-level U.S. Defense Department delegation this week, to discuss a soon-to-be opened public health laboratory.
Deepening relations and cooperation between Georgia and the United States was the main topic of discussion, especially with regards to health and medical research. The sides discussed the Georgian-American Central Public Healthcare Referral Laboratory, whose first studies will begin in the near future. American military researchers will work at the lab within the scope of a Georgian-American partnership.
As the American delegation noted during the meeting, this lab is an integral element of a public healthcare system, and it will bring important results in terms of epidemiology, biological research, and food safety.