Business forum to help Georgians enter U.S. market
By Ernest Perosyan
Thursday, March 15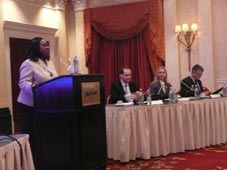 On Wednesday, the United States Department of Commerce held a special forum for representatives of the Georgian business sector at the Tbilisi Mariott.
At the conference, American experts consulted with Georgian business owners on development and franchising issues.
"We are hoping that this conference will help build capacity for Georgian companies to be able to approach the U.S. market, to learn what kind of specialty things they need to know in terms of making presentations to U.S. companies, seeking U.S. partners and what the U.S. government's resources are for doing business. In addition, tomorrow we will specifically be talking about what it takes to do business in franchising," said Danica Starks, Senior Policy Advisor, Caucasus & Central Asia Market Access and Compliance, at the U.S. Department of Commerce.
Nino Chikovani, General Director of the Georgian Trade and Industry Chamber, connected the forum to a prospective free trade agreement. "The perspective that Georgia has with regards to a free trade agreement with the United States needs preparation work, [including] the readiness of Georgian companies to enter the U.S. market. This seminar and according events will enable representatives of Georgian businesses to gain more information about the ways and means to achieve their goals," she said.
The conference was originally planned at the meeting between the two nations' Presidents in Washington earlier this year.