Kobalia addresses aviation sector, FDI
By Salome Modebadze
Thursday, March 15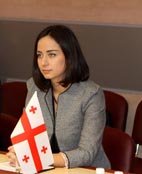 Minister of Economy and Sustainable Development Vera Kobalia has commented on the health of Georgian aviation companies, and the increase in foreign direct investment into Georgia.
According to Kobalia, there are few problems facing the airline industry that are not of their own making. She associated Airzena Georgian Airway's recent complaints about financial problems caused by a decreasing number of passengers, to improper management.
As Nino Giorgobiani, Airzena's Head of Public Relations, told
The Messenger
, the Minister lacks accurate information about the situation in Georgian aviation. "Aviation is a difficult business," Giorgobiani said, stressing that Airzena's management team is ready to meet with the Minister to discuss the problems that not only Airzena, but the entire aviation sector, is currently facing.
Czech Airlines intends to leave the Georgian market for financial reasons beginning July 1, 2012. But as the Minister explained, this is due to the company's internal problems, not a lack of passengers. Kobalia said Air France and other large companies face the similar problems, because they fail to compete with low-budget airlines.
Reporting on the preliminary results of the last year's foreign direct investment on Wednesday, Kobalia said that out of $981 million USD Georgia received in 2011, most was invested in industry, transportation, and communications. The Netherlands, Denmark, and Azerbaijan were the largest investors.
American businessman Donald Trump will visit Georgia this April, to discuss investments with President Mikheil Saakashvili. He intends to invest in Tbilisi once the construction of Trump Tower in Batumi is complete in 2013. An agreement between the Trump Organization and Silk Road Group was signed in New York last year, with Saakashvili personally visiting the United States to attend the signing ceremony.
Trump Tower will support a hotel, apartments, commercial spaces, and casinos, in a project worth approximately $250 million USD, although the cost is expected to rise.
The Minister also responded to Russia's Chief Sanitary Doctor Gennady Onishchenko's comments on the return of Borjomi mineral water to the Russian market. According to Onishchenko, the product may return after Russian experts inspect its production in Georgia. He asked that the Georgian government give official confirmation about his team's visit to the plant, after which his organization, RosPotrebNadzor, could give a green light to IDS Borjomi International.
"Georgia has a visa-free regime with Russia," Kobalia said, stressing she will not "host" Russia's Chief Sanitary Doctor, but explained that Onishchenko may arrive whenever he wishes. It was in 2006 when Russia imposed an embargo on Georgian mineral water and wine. IDS Borjomi International has been holding talks with RosPotrebNadzor since the fall of last year.