German Foreign Minister visits Tbilisi
By Ernest Petrosyan
Friday, March 16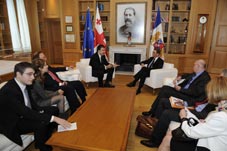 German Foreign Minister Guido Westerwelle visited Tbilisi on Thursday, during a trip that encompassed all three South Caucasus states.
While in the region, Westerwelle discussed issues of regional conflicts, bilateral cooperation in economic and energy issues, relations with the EU, and the human rights situation with all three governments.
In Tbilisi, the Minister held meetings with President Mikheil Saakashvili and Foreign Minister Grigol Vashadze, as well as with ex-Georgian President Eduard Shevardnadze.
In his remarks, Westerwelle referenced Georgia's efforts in the ISAF mission in Afghanistan, emphasizing its contribution to the NATO operation.
He also expressed support for Georgia's NATO integration. "I can openly state that Germany supports the deepening of the partnership. I think we will reach particular results at the Chicago summit. I will not talk about details as NATO makes collective decisions. Nonetheless, Germany's position is clear and the decision made in Bucharest remains in force," he said at a press conference.
"We have never concealed the fundamental differences with the Russian Federation with regard to Georgia's conflict regions. We are convinced that [systematic] improvement in Russian- Georgian relations will be mutually beneficial. Therefore, a pragmatic decision is very important, for instance the agreement achieved with regards to the WTO issue. The abyss should not deepen. That is why we are supporting the Geneva talks and humanitarian aid," Westerwelle remarked.
He also reaffirmed Germany's support of Georgian territorial integrity and efforts at European integration, in terms of visa facilitation and a free trade agreement.
Georgian Foreign Minister Vashadze commented, "When Russian high-level officials allow themselves to talk in such a tone about the President elected by the Georgian people, it first of all reveals the weakness of their diplomacy, since they have difficulties in thematic discussions and, as a rule, the weak side of the dispute blames people".
During his visit, the German Foreign Minister also met with a group of civil society representatives, and delivered a speech at Tbilisi State University about relations between the EU and the South Caucasus countries.
His visit coincides with the 20-year anniversary of German-Georgian diplomatic bilateral relations. Westerwelle spent Thursday in Tbilisi, arriving from Baku. He completes his regional tour in Yerevan on Friday.