Health Minister Replaced
By Lera Khubunaia
Friday, March 16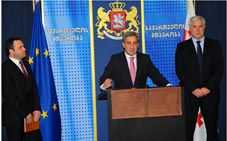 Zurab Chiaberashvili, Georgia's ambassador in Geneva and former Mayor of Tbilisi, has replaced Andria Urushadze as the Minister of Health, Labour, and Social Affairs.
Rumors about the move began circulating two days ago, but were not confirmed until Thursday.
Urushadze will be appointed a deputy of the Mayor of Tbilisi, according to Prime Minister Nika Gilauri, who made the announcement.
"I consulted with Gigi Ugulava, and Andria Urushadze will be a new deputy of the Tbilisi Mayor, and work on social [issues]," Gilauri said. "Chiaberashvili is a good manager and our healthcare sector needs a good manager now, so that we can implement social reforms".
Gilauri thanked Urushadze for all the work he has done in the past two years, and announced that last year was particularly successful in the area of healthcare reforms.
"Many things were done – 90 new hospitals were built, and soon 60 more new hospitals will start to function in the next year," he said.
MP Gigi Tsereteli commented that Urushadze would not have been replaced if it was unnecessary. He noted that one step in social reform has ended, and now it is necessary to continue reforms with a renewed vision.
As for Chiaberashvili, as a new minister, Tsereteli noted that he will perform all the requirements as a minister in a very responsible way.
One-third of cabinet members have been either replaced or re-appointed in the years since the last confidence vote in July 2010. The new appointment therefore requires a formal confidence vote for the entire cabinet in Parliament, a session that was held yesterday.
Opposition parties consider this move to be strange, especially since the legislature is about to review pension reforms. The Christian-Democratic Party refused to participate in the confidence vote entirely.
"As Christian-Democrats, we have questions regarding this decision, as currently Parliament is discussing the pension packet, and Andria Urushadze was a person who defended the position of the government," said Magda Anikashvili, secretary of Parliament's Health Committee. "As soon as we understand what the reason was for his discharge, then the Christian-Democrats will consider the confidence vote; we have never taken the government's side before".
Before Chiaberashvili replaced Urushadze, he was Georgia's permanent representative to the Council of Europe. He previously served as Mayor of Tbilisi for 15 months in 2004-2005. Just before it he was a chairman of Central Election Commission.
"Our main goal is to make the country's economic growth more available to all Georgian citizens," he said.
"Even thought the strategy remains same, it is necessary to approach the system in an updated format. Both in terms of the social and healthcare angle, and also from the angle where social reforms could be a better fit to the needs [of the public]," Tsereteli affirmed. "This is a new level and [we believe] that Zurab Chiaberashvili will handle this quite well".