Ministries unite to create new anti-drug policy
By Salome Modebadze
Friday, March 16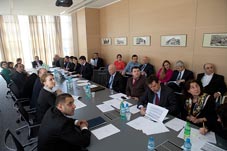 The first meeting of the inter-ministerial coordination council against drug addiction gathered at the Ministry of Justice on Thursday. The council aims to find new approaches to defeating drug addiction in Georgia.
Uniting behind the same goal, the Ministry of Justice, the Ministry for Probation and Legal Assistance, the Ministry of Internal Affairs, the General Prosecutor's Office, and the Ministry of Labour, Health and Social Affairs are encouraging the public to assist them in eradication of drug-related problems.
After briefing representatives from NGOs on drug-crime data, First Deputy Prosecutor Davit Sakvarelidze spoke of the importance of the changes being considered to drug policy across the country.
As Sakvarelidze explained, the council will elaborate an effective strategy and define the steps forward. "But if the public won't support us, we won't get results despite the decreasing amount of drug usage," he said.
It was earlier this month when a report about drug addiction and drug distribution in Georgia was presented to Parliament.
According to the report, drug crime has decreased 53% from 2007 to 2011. Illegal circulation of "heavy" drugs on the black market has been significantly suspended by law enforcement and government policy, but the Georgian public still considers drug addiction to be one of the country's greatest social problems, possibly because illegal use of "light" drugs like marijuana remain problematic.
The ministries intend to make their first coordinated step raising the issue at the legislative level.
Changes to drug policy will not include a lessening of punishments for drug dealers, a part of the current policy that is popular with the public. Drug dealers will still be detained, but drug abusers will be provided with rehabilitation courses.
Presenting the first draft of the strategy to NGOs, members of the newly-established council expressed their hope that they can open rehabilitation centres as soon as possible, through strong cooperation with foreign experts.
The first centre, which is due to be built in Bazaleti, would give each drug user an opportunity to take a rehabilitation course that meets international standards.
Khatuna Todadze, Deputy Director of the Georgian Research Institute on Addiction, attended the meeting and hopes that the inter-ministerial council can deal with all drug-related problems, as well as monitor the decrease of addiction across the country.