Saakashvili opens new and improved Gudauri
By Lera Khubunaia
Monday, March 19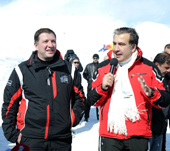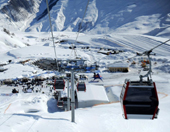 President Mikheil Saakashvili visited Gudauri this weekend, alongside First Lady Sandra Roelofs and Tbilisi Mayor Gigi Ugulava, to promote a regional development project.
The President and the First Lady opened a ski-lift gondola system on Saturday, taking a trip on it personally. The gondola is the largest one in the Caucasus, with each car capable of holding 10 people and taking them to their destination in seven minutes.
"It is a totally different infrastructure. Many new ski-lifts have been added in Gudauri, and this is not only about pleasure for Georgian and foreign tourists, this is also about the employment of people," Roelofs noted. "I am very happy that we are moving forward with such huge steps".
The Saakashvilis also visited a new tourist information centre built near the new ski-lift, then tried out newly-enlarged ski slopes.
Ugulava considers Gudauri a member of the Tbilisi family, and City Hall intends to run a tourism promotion project for the region through the spring. He opened a new ski-rope attraction at the resort.
"A couple of years ago we made some changes here, but this kind of change has not been in Gudauri since it was founded," Saakashvili said. "Gigi not only created this ski-rope, he is creating a new brand for Gudauri". With these new developments, he continued, there is a guarantee that new doors will open for Gudauri residents, and all of Georgia.
Major construction has finished, Saakashvili announced, calling Gudauri "a beauty of Georgia" and "a treasure" which requires special treatment. He noted that the country's other popular ski resort, Bakuriani, is more of a family place, so its infrastructure should be focused on children. As for Svaneti, Kutaisi and Poti, they will also see new developments, as soon as their airports start to function, according to Saakashvili.
"We will reconstruct Ushguli, Etseri, and Chuberi; Mestia will be in the middle, surrounded by a group of tourist attractions; same as it is in the famous places of Sweden and Austria," he said.
Construction on the new attractions helped boost employment in the area, as well as the number of tourists and the income of local residents. Sport schools are now working full-time, and the newly-revitalized infrastructure will contribute to the hosting of international tournaments. There are also a variety of new enterprises in Gudauri, including hotels, a Wissol gas station, and businesses with free wi-fi, to attract the attention of both Georgian and foreign visitors.