Crimes by and against foreigners decrease in 2011
By Salome Modebadze
Monday, March 19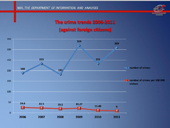 The Ministry of Internal Affairs (MIA) has released a report about crime committed by and against foreign visitors in Georgia for 2011.
According to the Information Centre of the MIA's Department of Information and Analyses, the number of visitors increased in 2011, however the number of crimes by and against foreigners significantly decreased.
Nata Javakhishvili, Deputy Head of the Information Centre, outline their findings for NGOs and diplomats on March 16.
The statistical report, which addressed crime in Georgia by region, indicates that Tbilisi accounts for half of all victimized foreign citizens, followed by Adjara with 34% of crimes. Meanwhile, of the crimes committed by foreigners, 24% occurred in Adjara, followed by 22% in Tbilisi, 22% in Samtskhe-Javakheti, and 16% in Kvemo Kartli.
A total of 529 foreign citizens were the victim of crime, from 52 different countries. Citizens of Turkey, India, Iran, Armenia, and China were the most victimized. The number of foreign criminal offenders was 353, with Turkey leading the list of 34 countries whose citizens had violated Georgian law, followed by Armenia, Russia, Bangladesh, and Iran. One hundred and twelve Turkish citizens were the victim of crime, while 92 Turks committed crime.
The report shows that theft was the most frequently reported crime against foreign citizens, with 267 cases. Incidents of fraud, personal injury, robbery, and hooliganism were also reported by the MIA.
Foreign citizens overwhelming violated Georgian law through illegal border crossings. There were also cases of attempted illegal entry to the disputed territories, as well as the production and use of forged documents, theft, and fraud.
The report demonstrated that the crime rate against foreigners correlated with the start of tourist season in Georgia, especially in Adjara.
The most significant crime against a foreigner was the murder of a French citizen in Tbilisi, which topped a list of serious crimes including attempted murder, rape, trafficking of persons and narcotics, and smuggling.