'Mary Stuart' returns to Rustaveli Theatre
By Salome Modebadze
Monday, March 19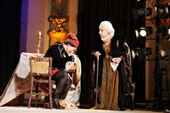 A re-staging of the popular play "Mary Stuart" premiered at the Rustaveli Theatre on March 14, to much acclaim from audiences.
Director Gocha Kapanadze last staged the play in May 1997, but thanks to popular demand the production was brought back.
"I think we have lots of performances that should be rehabilitated in our theatre. Schiller's classic play 'Mary Stuart', with an amazing blend of actors and actresses, already sounds really interesting," Zaal Chikobava, Managing Director of Rustaveli Theatre, told
The Messenger
.
Frederick Schiller's historical drama is about the fight between two ambitious queens, Elizabeth and Mary, for the throne of England.
Elizabeth and Mary Stuart were sisters from two of King Henry VIII's marriages. The king divorced Mary's mother and married Anne Boleyn, who gave birth to Elizabeth. Although their marriage was initially considered illegitimate, the English soon recognized Elizabeth as the heir to the throne, in place of her sister. Elizabeth, who imprisoned Mary for 20 years, promised to give the throne to her nephew Jacob, but this did not stop Mary's quest for power. "She can kill me, but she cannot judge me," is one of her famous lines. Elizabeth is forced to behead her, "for the people's sake", and take her place in history as one of the most influential female monarchs.
Kapanadze changed nearly everything from his old production by focusing on aspects of modern life. He hopes that the audience is able realize Schiller's depth. "The heroines behind the masks are very interesting and easy to guess," he said.
The play is being staged after a series of intense rehearsals over a short period of time. "I can't say how I have dealt with this responsibility because, practically, we had the first general rehearsal with the audience today. Everyone except four [performers] are new to the play, but we still managed to do everything in a fortnight. That's because Gocha is great and... I want to congratulate him," actress Mari Janashia said.
Congratulating the actors and actresses on their well-received premiere, theatre critic Nika Tsulukidze emphasized the specialty of Rustaveli Theatre. "It's a rare case when we can see such great artists on one stage exchanging their talents, modesty, and respect – that's the [role] of Rustaveli Theatre! It's a very important [role] for the public. Schiller should be in the repertoire [of the theatre], especially with such a performance."