New Health Minister presents his vision to Parliament
By Ernest Petrosyan
Tuesday, March 20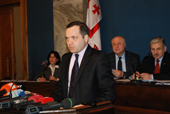 Former Ambassador to the Council of Europe and the government's choice for Minister of Health, Labour and Social Affairs, Zurab Chiaberashvili, was questioned by Parliament's health and social issues committee on March 19.
At the meeting, the Minister announced his priorities, namely, patient-oriented quality healthcare, geographic accessibility to medical centers, increased training for medical personnel, and improvement of the insurance system.
Chiaberashvili believes that one of the first amendments to the healthcare system should be the introduction of electronic forms for patient medical history.
"Patients with a history of illness will make medical [treatment] more efficient. There should be unified data about a person's health conditions, which will provide doctors with comprehensive information at any medical centre," he said, adding that the introduction of proper management in the medical field will motivate medical staff to increase their professional qualifications.
He also presented a new government program, "Georgia without poverty". Speaking about those citizens living below the poverty line, Chiaberashvili noted that there are some shortcomings in the social package granting system, which according to him will be revised in the near future.
"The government supports those citizens who are living below the poverty line. They firstly should be provided with quality medical service and insurance coverage," he said.
Opposition MPs asked several questions, and offered their own policy alternatives. The Christian Democrats (CDM) presented a pension package, which envisages the 140 GEL pension available to men over 67 years of age as also available to women over 62.
CDM representative Magda Anikashvili also emphasized the flaws in Georgia's insurance system, which does not cover expensive pre-operation examination of a patient.
Questions also came from ruling party representatives. MP Gigi Tsereteli said that bureaucratic mechanisms have been reduced. "It is easier to get a license now, in order to attract more investments in the medical field," he said.
The candidacy of the new minister will be considered at Parliament's session today, and is expected to be approved.