Saakashvili promotes Georgian intellectual revolution
By Salome Modebadze
Tuesday, March 20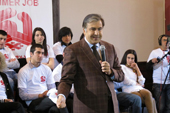 Georgian President Mikheil Saakashvili has said that Russia will fail in "buying" the Georgian electorate in the upcoming elections. Emphasizing that the Georgian people will not swap their independence for money, he said "You can be as small as Georgia but have rules relevant to Holland or Singapore".
Meeting with students of the Georgian Technical University on Monday, the President welcomed the country's intellectual revolution, which overcame a "wrecked" state apparatus decades ago. "I would say the main thing that has changed is the mentality – and the attitude of the state apparatus towards people," the President said, discouraging foreign states which still have that bureaucratic approach.
He also stressed that the country has managed to overcome "Russian logic", which used to be shared with former Georgian governments. Saakashvili maintained that "corruption and psychology" were the two major problems the state faced in those years. He noted that the Russians now wonder how Georgia has developed into real statehood, especially since Georgia's former Russian occupiers, according to the President, tried to "annihilate" the country hoping to return and rule over it again.
"Economics will create a level of development in the country… and make Georgia a world centre," Saakashvili stated, explaining that the best staff are employed in government. The Ministry of Internal Affairs and the Ministry of Justice personally control rehabilitation of several regions in order to finish projects as soon as possible, he said.
Explaining that Georgia has already met the preconditions necessary to become globally important, the President promised to make Georgia a wealthy country. He affirmed that although the nation does not have oil, it will see an 8-10% growth in the economy this year.
Promoting professionalism, Saakashvili hoped that new generations would create "real" products in the field of information technology, "so that Georgia will find its place in the constantly changing global market".
Speaking of traditions as an important part of every university, he said the Technological University due to be built in Batumi will need years to develop its values, but it will have grand aspirations.
Saakashvili also spoke of the fairness of the Unified National Exams, which gives a chance to any high school graduate to enter a university. But the President also said the exams are not enough.
Welcoming modernization of the education sector, he said that school discipline, new technologies, and exchange programs are all united. "If anything in the system remains old-fashioned it will weaken everything else," Saakashvili said, re-iterating his confidence that future generations will "never give up" moving forward.