Second Wilton Park conference in Georgia March 20-21
By Messenger Staff
Wednesday, March 21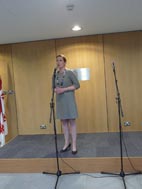 From March 20-22 Wilton Park, alongside the UK Foreign and Commonwealth Office, the City of Tbilisi, and the Ministry of Foreign Affairs, will host the Wilton Park Conference on Security in the South Caucasus at the Tbilisi Holiday Inn.
Wilton Park is an independent, non-profit agency of the Foreign and Commonwealth Office, which holds international conferences in order to promote "dialogue, understanding, and resolution" of globally vital issues. Conferences draw government ministers, politicians, diplomats, businesspeople, academics, and other experts to share ideas, develop policy, and deliver results.
This is the second Wilton Park Conference to be held in Georgia, and this year's event will touch on three themes:
• Regional security: What role should international organisations play in promoting security in the region?
• Regional energy/economy: What are the opportunities for promoting intra-regional cooperation in energy and the economy?
• Regional democratisation: What are the opportunities and challenges in promoting good governance and democracy?
The conference will be addressed by UK Ambassador Judith Gough, Minister of Foreign Affairs Grigol Vashadze, and other senior officials, policymakers, and diplomats from around the world.
Wilton Park was founded in 1946, as part of an initiative inspired by Sir Winston Churchill, who called for Britain to help establish a successful democracy in Germany after the Second World War. European policy and democracy building remain central to the organization's mission, carrying out its role as a neutral forum for democracy building, post-conflict reconciliation and international dialogue.