Social Work Day marked in Tbilisi
By Ernest Petrosyan
Wednesday, March 21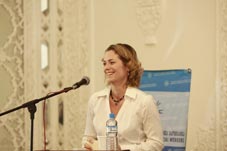 The Georgian Social Workers Association (GASW) celebrated International Social Work Day on March 20 at Tbilisi's Youth Palace, with the Association's honourary awards ceremony led by Holly Holzer Bass and GASW Chairperson Salome Namicheishvili.
Holly Holzer Bass, wife of United State's Ambassador to Georgia John Bass, who is herself both a social worker and a Foreign Service Officer, addressed young Georgian social workers about the importance of the profession.
She emphasized the contribution of the GASW, and noted that the spirit of volunteerism is important to a social worker's life, regardless of whether it is in health, children, youth and elderly support.
"I am very happy to be here today, to celebrate with the Georgian Social Workers Association on International Social Work Day. It is a day when [people] around the world recognize the field of social work," Holzer Bass told
The Messenger
.
"Social work is a difficult and challenging field but it is also incredibly rewarding, and I would encourage people who are thinking about this field to talk to social workers... and to engage in volunteerism. It's a wonderful way to see if you enjoy working with vulnerable populations and explore different career options as well," she added.
"The role of the social worker in Georgia is very important, especially with regards to social security. It is also important to activate social workers in the field of human rights, as there are many challenges in Georgia. We consider that this day will contribute much to the popularization of this profession and activation of our social workers' role to protect human rights," said Salome Namicheishvili, Chairperson of the GASW.
Later, Holzer Bass and Namicheishvili hosted an awards ceremony, granting certificates to those volunteer social workers who participated in GASW initiatives.
At the event, the organization also unveiled its newest project, called "Social Work Volunteers Mobilizing in Support of Community Members". The goal is to promote the role of social workers in volunteer activities. Volunteerism is one of the core values of the profession, according to the GASW.
The event was attended by representatives of national, municipal, and international organizations (including members of the diplomatic corps), as well as GASW member social workers, and students of Social Work Bachelor's and Master's level academic programs.
Social work as a field has been developing in Georgia for the last 12 years. Currently, there are approximately 500 social workers employed in both the private and public sectors. A social worker's role is to enhance the social welfare and quality of life of vulnerable members of the population.