Defense Minister responds to paramilitary accusations
By Gvantsa Gabekhadze
Wednesday, March 21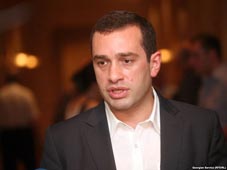 Illegal, armed paramilitary groups are being formed in Samegrelo by the current government, so as to put pressure on political opponents and their supporters, claims leader of Our Georgia-Free Democrats and member of the Georgian Dream coalition, Irakli Alasania. But according to Defense Minister Bacho Akhalia, these groups are merely voluntary reservists.
Alasania declared that the Free Democrats possess exact information on the location of these groups, on their illegal arms, and their financial sources. "We received this information from those people who really worry about the fate [of Georgia]. We have been collecting and rechecking this information for months and today we can openly state that by the direct order of President [Mikheil] Saakashvili, the formation of illegal [paramilitary] groups is actively ongoing in west Georgia".
He expressed suspicion that the goal of the groups is to threaten those with different views from that of the current leadership, including exerting physical pressure on them. "When it was needed for my state I took [up arms], but the main reason of my coming to power is the establishment of such a situation where the authority will be delivered peacefully. It should be the only way".
Alasania also said that the information collected by his party will be sent to the Security Council of Georgia. "We have made this decision [in the interest of Georgia]. Our country is being occupied and such information might have been used against the country's interest".
Alasania claims that the groups consist of nearly 500 men, some of whom are war veterans, while others have a criminal history or financial interests. He says they are being organized by Defense Minister Akhalaia.
"I appeal to Saakashvili to split the [paramilitary] groups. We want only his legal replacement," he said, mentioning that it is possible such groups are also being formed in Tbilisi. Alasania says that his party will check that information, and bring it to the public's notice if they find it to be true.
Akhalia called Alasania's statement "delerium", and advised him to give up his cause. The Minister stated that a military reserve system is being created, in which any Georgian may participate if they so desire. He also noted that the reserve service is voluntary and unpaid. "Nearly 40 000 men have already participated there, [and] we have optimistic plans. [In the future], we will have 100 000 volunteers".
Akhalaia went on to explain that the formation of these groups was launched in border regions, such as Samegrelo. "[The events of] 2008 revealed the necessity of such voluntary reserve groups. The use of such groups is likely only during wartime or natural disaster, not for inner political confrontation," he maintained.
United States Ambassador to Georgia, John Bass, commented on Alasania's statement, noting that any information concerning destabilization and conflict concerns the U.S. government. He emphasized that "violence has no place in a competitive electoral cycle in a democratic society".
He asked that all sides act responsibly, and in a way which will avoid hostility. He also reminded politicians to "work off a set of facts and to not make allegations that cannot be supported by a set of facts that are readily available to a wider audience".