Ugulava: "Too early" to declare interest in presidential election
By Lera Khubunaia
Wednesday, March 21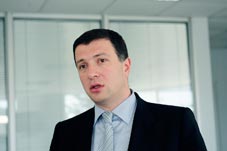 The United National Movement (UNM) has an excellent chance of winning the upcoming elections, declared Tbilisi Mayor Gigi Ugulava, in an interview with Focus.
In an article titled, "Improved Misha: Tbilisi Mayor tells how Saakashvili plans to maintain the government", Katerina Koberniki writes about Ugulava's status as a potential presidential candidate after sitting President Mikheil Saakashvili steps down.
Ugulava spoke at length about Saakashvili and his plan to keep the UNM in government after the 2013 presidential election. "We are expecting the parliamentary elections in the autumn and that is more important than the presidential elections. A new Constitution, which will take action after the presidential election, will put the most of the presidential duties onto Parliament and the government; that's why the National Movement is mostly concentrated on the parliamentary elections," he said.
According to a number of national opinion polls, the UNM has the support of up to 65% of voters but, according to Ugulava, the most important thing is not to lose that rating.
He also mentioned a "Plan B", how the UNM will operate if an opposition party takes the lead. If this happens, reforms will take a different turn and the country will change its direction. He maintained that it is more important to know where the country is, rather than who the future President will be.
"For us, it is important that the reforms were irreversible and unstoppable, that is why it is important who will become Prime Minister and who will [gain] a majority. These [opposition] people will design the reforms, [which may] be regressive. That is why the parliamentary elections are so important," Ugulava said.
Ugulava also discussed whether or not he will run in the presidential election, but maintained that it is too early to speak about that issue. "As for me, I already achieved my historical mission, by becoming the very first Tbilisi mayor chosen by the people."
During his interview, Ugulava also spoke about Gudauri's development project, and noted that 20-25 million GEL was invested in its development and investment. He also mentioned the changes to Tbilisi, with its new administrative buildings and emphasis on glass.
"All these were done for a certain purpose. All police department buildings are transparent, so that all passers-by can see what the police officers are doing all day and night. Transparency is a symbol of changes in the system," he noted. "The same may be said of the court house, a modern and beautiful building, where each person can receive any kind of documentation. We want people to feel themselves how our country is changing".
Ugulava also spoke about Ukrainian investors, and about Kiev Mayor Leonid Chemovetskyi's investment-related visits to Georgia.
"I cannot say exactly, but I was told that he visits Georgia quite often, but we have only met twice – once in Kiev and once here in Georgia. Mostly we spoke about problems in Kiev and Georgia," Ugulava said. "If someone has enough money to invest in Georgia, we welcome that person."