Survey finds Georgians optimistic, support Ivanishvili's citizenship claim
By Ernest Petrosyan
Thursday, March 22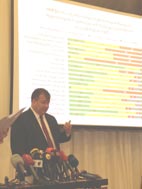 The National Democratic Institute (NDI) has released a public opinion survey of Georgia, touching on important issues going into the elections, including support for the restoration of Georgian Dream leader Bidzina Ivanishvili's citizenship.
According to the survey, 64% of respondents indicated that they are likely to vote if the parliamentary elections (set for October 2012) were held tomorrow. This represents a 13% increase compared to NDI's last poll in September 2011.
Respondents named unemployment, the country's territorial integrity, and affordable medical service as the top three issues for Georgian citizens, while concern about inflation has dropped.
The poll also reveals that 70% of Georgians support NATO integration, while 88% disapprove of the current relationship with Russia.
The number of respondents who consider Georgia democracy has increased slightly, at 49%, compared to 34% who do not feel that Georgia is democratic yet. In September, 45% of those questioned responded in the affirmative, versus 39% who disagreed.
NDI Country Director Luis Navarro commented, "Georgians are optimistic about the direction of the country and the government is seen as being able to make changes that matter to citizens".
The survey also included a question about Ivanishvili's citizenship, with 70% of respondents in support of its restoration. Only 8% of respondents are against the idea, with 22% saying they "do not know".
Such a high level of support for Ivanishvili's citizenship gained the attention of the administration. United National Movement MP Nugzar Tsiklauri said that such a high number of people in favour of restoration is due to the public's desire to give Ivanishvili an opportunity to participate in the elections, and thereby "judge" him as the "last pro-Russian bastion in Georgia".
Member of Our Georgia-Free Democrats Victor Dolidze hailed the poll results. According to him, the policy priorities noted by Georgians is revealing, as unemployment has not only not been solved, but has increased. As for the restoration of Ivanishvili's citizenship, he also said that public support has been "objectively" revealed.
A question regarding the controversial Law on Political Unions of Citizens will be asked in a future survey, said Navaro at a presentation of the survey results Wednesday. He said that focus groups conducted by the organization before the survey found the dense legal concepts difficult to understand.
Data was collected between February 22 and March 5, in face-to-face interviews conducted with 3,161 adults throughout Georgia. NDI survey work is funded by the Swedish International Development Cooperation Agency and carried out by the Caucasus Research Resource Centre.