Government denies paramilitary groups in west Georgia
By Salome Modebadze
Thursday, March 22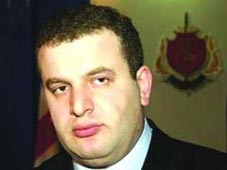 Shota Utiashvili, head of the Information and Analytical Department of the Ministry of Internal Affairs (MIA) has denied reports of the existence of illegal paramilitary groups, explaining that all armed groups in the country are under state control.
Utiashvili referred to a recent statement made by Our Georgia-Free Democrats leader Irakli Alasania, who is also a member of Bidzina Ivanishvili's political team. Alasania has accused President Mikheil Saakashvili of setting up paramilitary groups in order to put pressure on political opponents and prepare for "civil war" in Samegrelo.
Although Alasania refrained from publicizing the documents he cited, for safety reasons, he said that opposition coalition Georgia Dream would not "allow civil confrontation to happen" in Georgia and hoped that the National Security Council would immediately react to the issue.
Leader of the Christian-Democratic Movement (CDM) Giorgi Targamadze has advised the government and opposition to be cautious when mentioning civil war. Suspecting that this topic has become popular because of the autumn elections, Targamadze discouraged using it to "raise the political temperature".
Democratic change, according to the CDM leader, is the major topic of discussion in Georgia not because of "fashion" but because Georgia has "an aggressive neighbour" ready to use any internal confrontation for its own profit.
"Georgia's integration into Euro-Atlantic structures is the main goal for the government, Parliament, and any responsible politician," Targamadze maintained, discouraging "threatening" the public with rumours of civil war.
"This is the most dangerous path... [one] which has previously affected territorial integrity, but fortunately it hasn't damaged the idea of unity," he remarked, worrying that when politicians start actively talking about something, it usually becomes a reality.
As Defence Minister Bacho Akhalaia has explained, a voluntary and unpaid military reserve system is being created, in which any Georgian may participate if they so desire.
However, military analyst Irakli Sesiashvili suspects some political motivation behind the reservist system. Recalling the events of the August 2008 war, Sesiashvili said a five-day reserve is not enough to protect the country. Even if the reserve groups are registered under state bodies, Sesiashvili connects them to internal political processes.
Video footage released online shows people in military uniforms gathering at private houses in Zugdidi, hesitating to explain the reason for their presence. "This causes suspicion," Sesiashvili said. "Sometimes there is no evidence, but Georgia is a small country and information spreads quickly," he noted, suggesting a deeper investigation of the issue.