Next American Ambassador shares his views on US-Georgia relations
By Ernest Petrosyan
Friday, March 23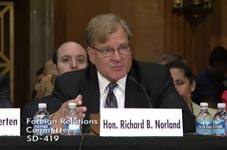 Richard Norland, the United States Ambassador-designate to Georgia, has announced priority areas for American cooperation with its "reliable partner" Georgia, during a nomination hearing at the Senate Foreign Relations Committee on March 21.
Noting that upcoming parliamentary elections would be "a very important litmus test" for Georgia's NATO integration, he also expressed hope that "they [Georgian officials] will make the right steps". This echoed remarks made by NATO Secretary General Anders Fogh Rasmussen during his official visit to Tbilisi earlier this year.
At the outset of his remarks, Norland noted the 20th anniversary of US-Georgia diplomatic relations and quoted President Barack Obama, who said that Georgia had made extraordinary progress in transforming itself from a "fragile state" to one that has succeeded in significantly reducing petty corruption, modernizing state institutions and services, and building a sovereign and democratic country.
In addition, Norland maintained that Georgia has demonstrated itself to be "a reliable partner" on issues like Afghanistan, non-proliferation, and trade.
He also reiterated his country's support for Georgia's territorial integrity. "Of paramount importance, I want to emphasize that the United States' commitment to Georgia's territorial integrity and sovereignty remains steadfast," he said. "The United States will continue efforts to persuade Russia to fulfill its 2008 ceasefire obligations, while also working on the essential task of improving broader Georgia-Russian relations."
"We continue to object to the presence of Russian troops in the occupied territories and we strongly support Georgia's sovereignty and territorial integrity; these are matters of principle," he affirmed, adding that the U.S. will continue to be actively engaged in the Geneva talks.
Norland dedicated a significant part of his remarks to Georgian integration into NATO. He reiterated American support for the country's NATO aspirations, and said that the Alliance's upcoming summit in Chicago would provide a good opportunity "to highlight Georgia's progress towards meeting membership criteria, as well as its significant partnership contributions".
He also emphasized the importance of Georgia's contribution to the Afghan mission, noting that Georgia will become the largest non-NATO contributor to ISAF after it deploys an additional battalion to Afghanistan this fall.
Asked by Senator Richard Lugar (R-IN) about Georgia's NATO integration, the Ambassador-designate responded that the Alliance had already declared that Georgia would become a NATO member.
"So the issue really has to do [with] how and when," Norland said. "There is no single path to NATO membership. As it stands now, I understand, the Annual National Programme and the NATO-Georgia [Commission] are the primary mechanisms [with] which Georgia and the Allies are pursuing the issue of Georgia's membership."
He added that "a lot of emphasis" was placed on steps Georgia is already taking, including its contribution to the ISAF mission, defense reforms, and democratic and economic reforms.
According to Norland, "serious efforts" were being undertaken by the US administration to use the summit in Chicago "to signal acknowledgment for Georgia's progress in these areas and to work with the Allies to develop a consensus on the next steps forward".
Norland referred to the issue of US-Georgian cooperation in the defense sector, saying that talks between President Obama and President Mikheil Saakashvili at the White House in January gave "important impetus" to military relationships. He noted that the US had approved the sale of M4 Carbine assault rifles to Georgia, as the presidents "agreed to enhance these programs, to advance Georgian military modernization reform and self-defense capabilities".
"Our plans for security assistance and military engagement with Georgia are to support Georgia's defense reforms, to train and equip Georgian troops for participation in the ISAF mission, and to advance Georgia's NATO interoperability".
The Ambassador-designate also stressed economic issues in his remarks, referring to "a new level" when he announced a launch of high level dialogue to strengthen trade ties, including the possibility of a free trade agreement.
A former US Ambassador to Uzbekistan, Norland was nominated by President Obama in February to replace current Ambassador John Bass.
In the early 1990s, the 32-year foreign service veteran briefly served in Georgia as a US representative and acting head of the OSCE Mission to Georgia, working on South Ossetia and Abkhazia conflict issues.
According to the US Department of State, Norland has spent much of his career on US relations with Russia, including working as a political officer at the US Embassy in Moscow in the late 1980s.