Georgian Dream criticizes NDI, sure of Ivanishvili citizenship
By Gvantsa Gabekhadze
Thursday, March 29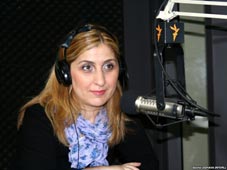 A representative from Georgian Dream's initiative group, Eliso Chapidze, spoke with journalists on Wednesday and addressed a number of current events, from the most recent political poll to the restoration of Bidzina Ivanishvili's citizenship.
On behalf of Georgian Dream, she demanded more information about the methodology used by the National Democratic Institute to conduct their recent public opinion survey. The coalition expressed misgivings about the poll and appealed to the U.S. government to recheck the results. But Chapidze was quick to note that scepticism of the survey does not mean that her party opposes the U.S. government, with whom Georgian Dream expects to have a close and active strategic partnership once it is in power. She believes that respondents did not answer truthfully because they distrust the current government.
As political analyst Ramaz Sakvarelidze told
The Messenger
, the survey results were surprising to him for several reasons. "There certain obscure questions in the survey for me. There was a question about presidential candidates and nothing was said about Prime Minister, when that post will be the most important based on the new Constitution," he remarked. He believes that one survey cannot accurately represent public opinion, and that many must be conducted and analyzed, from a variety of sources.
Chapidze also announced that members of the foreign diplomatic corps are involved in negotiations to restore Ivanishvili's citizenship. "I am not going to be more detailed. I do not speak to pressure; we recognize that Georgian authorities are sovereign in this decision, however it does not mean that the diplomatic corps and the international community should not express their opinions," she stated.
She noted that while Georgian Dream is sure that Ivanishvili will have his citizenship returned, the method of restoration "will be unjust and illogical at the same time".
Sakvarelidze is not as optimistic about Ivanishvili's chances. "Their hopes are based on the international community's support in this regard and their demands towards the current leadership of Georgia. However, if the current Georgian government decides to ignore the international community's opinion, Ivanishvili will not be granted citizenship".
The administration has made their own statements about Georgian Dream's demands, referring to the billions of dollars that Ivanishvili made while living in Russia. MP Akaki Minashvili noted that his money will not privilege him when the government decides whether or not to restore his citizenship, noting that this year Georgian citizenship was revoked for 900 persons.
Minister for Reintegration Ekaterine Tkeshelashvili said that statements made by members of the Georgian Dream coalition are irresponsible and give Georgia's foes ammunition to attack the country. "For a Georgian, such statements are unacceptable, [as they] provoke a certain force," she implied.
In addition, Chapidze announced that an official party – Georgian Dream-Democratic Georgia – will be registered in April, but did not provide a concrete date.