Renault announces prices for duster in Georgia
Thursday, March 29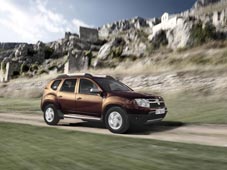 As an appeal to the Georgian customers' needs and expectations of quality and concept of a 21st century car model, Renault will officially launch the new Duster in Georgia. With a length of 4.31 meters and a width of 1.82 meters, Renault Duster was designed to cope with all types of roads and tracks all over the world. In order to meet these wide-ranging needs, Renault Duster will be available in 4x4 and 4x2 forms.
The most significant event that will precede the launch of Duster in Georgia is the announcement of its prices customized exclusively for Georgian market. The rates of the 4x2 version of Duster vary from Euro 11 960 to Euro 15 960 and for the 4x4 version – from Euro 14 460 to Euro 16 560*. The given prices include all local taxes.
Renault Duster is an available for all off-roader. It harmoniously combines high passing ability, reliability, large interior space and expressive design. This model, which claims to become a leader in its category, is about to bring a revolution into the segment of off-road vehicles.
Irakli Beria, local representative of Renault: "We are happy to present the 21st century off-road model of Renault to Georgian customers. As a follow up to the sustainable development of the Georgian economy and increased demand and expectations from the local customer, Renault is proud to launch Duster in Georgia. This step is an indicator showing that Renault starts a new strategy of developing the brand as a major player on the Georgian market".
"Duster represents a new stage in the development of Renault on the CIS markets. With the advent of Duster the company launches a new segment, in which it plans to take the lead by offering its customers a unique 4x4 car at an affordable price. The new Duster is the embodiment of Renault's rich experience and knowledge in the automobile production," - said Fabrice Cambolive, Commercial Director of Renault Eurasia.
Renault Duster customers will benefit from the high standard of travelling comfort, no matter where they drive, thanks to its high road clearance (205 mm in 4x2 and 201 mm in 4x4 version) and specific work on its suspension. Comfort is further enhanced by Duster`s long wheelbase (2.67m) and large 16-inch wheels. Renault Duster can be ordered with a petrol engine as well as a diesel engine, both of which have already demonstrated their quality under the body of numerous other Renault models. The main idea of Duster's designers was to boast with the thrifty fuel consumption. The average cycle fuel consumption of the 4x2 and 4x4 versions of Renault Duster is just 5.1 and 5.3 liters per 100 km.
Designed and manufactured in 2010, Renault Duster benefits from Renault`s acclaimed expertise in the area of safety. On the active safety front, Duster features Bosch 8.1 ABS as well as EBV, electronic brake force distribution, and EBA, emergency brake assist. On the passive safety front, Renault Duster features two front airbags and three-point seat belts with load limiters for the front seats. There are also two lateral head/thorax airbags in addition to the driver's and passenger's front airbags.
Renault Duster was created based on a simple fact – drivers all over the world need and expect a spacy, safe and affordable car, this expectation should be fulfilled by Renault Duster. Starting from April, Georgian customers will benefit from all the above mentioned features offered by a famous French brand and world leading auto designers.
* Given prices are recommended and can be changed to reflect transportation costs and tax deductions on the territory of the country