Ombudsman's report finds continued problems in prison system
By Salome Modebadze
Thursday, March 29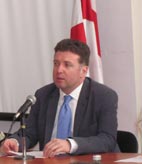 Public Defender Giorgi Tugushi has released a report titled "Human Rights and Freedom Protection in Georgia in 2011". The report assessed the overall situation in the country with reference to a wide range of issues and violations, and presents a series of recommendations, but it was the findings on Georgia's prison system that attracted the most attention.
"The constant monitoring carried out in the framework of the National Preventive Mechanism has revealed that protection of rights of detainees at penitentiary facilities is still a burning issue," the ombudsman said on Wednesday.
One hundred and forty prisoners, out of a total 24 300, died in penitentiaries last year. As Tugushi explained, this figure is almost the same as it was in 2010. He said the injuries found on detainees' bodies are enough to prove violation of the law. Even if fractures may not be the cause of death, Tugushi suggests investigating all "vague" cases.
Virus infections also remain problematic in the prison system. A high rate of oncologic diseases, HIV/AIDS, hepatitis C, and tuberculosis are common, and are often the cause of death, which means that the strategies and principles for dealing with infectious diseases in jails need serious changes.
As the Public Defender explained, healthcare services in the system do not meet necessary standards. Having studied the conclusions of several fatal cases, Tugushi said these people should have been removed from prison as they needed care which the penitentiary could not provide.
According to Tugushi's report, qualified cardiology services are unavailable at most penitentiary facilities. As the report revealed, 65% of detainees had heart-related problems but no screening was held to define risk groups for further treatment.
Patients often only use medicines prescribed before detention, while the stressful environment and injuries increased the risk of fatal diseases. Lack of relevant diagnosis and timely treatment may be another cause of death.
As Tugushi said, the number of human rights violations by law enforcement was high last year, mainly due to "improper distribution of power". The Public Defender's Office discouraged them from pressuring journalists, making threats, or committing assault.
The report was presented to Parliament yesterday. As Lasha Tordia, Chair of the Human Rights and Civil Integration Committee said, each committee will be familiarized with the report next week and will discuss the issues it raises at the plenary session.
According to the ombudsman, no particular steps have been made after a declaration of a joint strategy between the Ministry of Corrections and Legal Assistance and the Ministry of Health, Labour, and Social Affairs.
Deputy Minister of Corrections Giorgi Arsoshvili emphasized the importance of the Public Defender's active monitoring of the penitentiary system. Acknowledging the existence of problems yet to be addressed, Arsoshvili said the Ministry would respond to Tugushi's report after better familiarizing themselves with the document, and continue following the strategy and action plan the government has defined.