Chicago hopes
By Ernest Petrosyan
Friday, March 30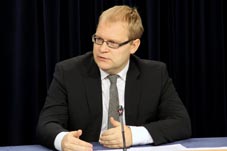 Estonian Foreign Minister Urmas Paet stressed the importance of sending a positive message to aspiring NATO countries at the upcoming Chicago summit, after meeting with United States Secretary of State Hilary Clinton in Washington Wednesday.
"It is important to get a strong, positive message to countries that want NATO membership in the foreseeable future, countries like Georgia, Macedonia, Montenegro, and Bosnia-Herzegovina," Paet said, according to the U.S. State Department website.
"And of course, once more, to stress the strong security of transatlantic relations, but also strong security of Europe, including Article 5, it is also from our point of view absolutely important as one of the outcomes of the Chicago summit," he remarked.
As for Clinton, she spoke primarily about cooperation with Estonia. "I expressed our support to Urmas about Estonia's work in helping countries build effective, free market, and democratic institutions. Estonia has maintained a strong assistance and development program in Eastern partnership countries, particularly Georgia, Ukraine, and Moldova', she said.
The Chicago summit will be held May 20-21. Georgian officials remain optimistic, seeking to be granted a NATO membership action plan (MAP). Meanwhile, NATO Secretary General Anders Fogh Rasmussen, as well as leaders of various NATO member states, maintains that Georgia's upcoming parliamentary elections will be a "litmus test" for further progress. As the elections are scheduled for mid-autumn, few significant decisions are expected to be made at the Chicago summit.
Political analyst Nika Chitadze believes that it is unlikely that Georgia will receive a MAP in Chicago; however, he says that NATO member states will re-affirm their support for Georgia's integration. "The issue of elections might be included in a communique adopted at the Chicago summit," he said.
Fellow analyst Irakli Sesiashvili also agrees that a MAP will not be granted to Georgia at the summit. He says a similar announcement to the one made at Bucharest will be made. "Indeed, there is progress in some directions, namely, reforms and participation in the ISAF mission, which will also be emphasized and hailed at the summit. However, no progress has been achieved in terms of the development of democratic institutions, which is of crucial importance for the alliance with regards to Georgia. Much still depends on the upcoming elections, as Western leaders, as well as NATO representatives, use every opportunity to remind the Georgian government about free and objective elections and equal pre-election conditions," he said.