Holzer Bass presents photography exhibit
Friday, March 30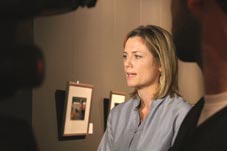 The Lado Gudiashvili Exhibition Hall hosted a presentation of American diplomat Holly Holzer Bass' personal photography on Wednesday.
Holzer Bass displayed 40 photos from Georgia and six from Azerbaijan, all of which were available for purchase, with proceeds from the exhibition going to support breast cancer awareness and treatment. Breast cancer is the number one cause of death for women between the ages of 14-49 in Georgia. "This is a statistic we can all change, by encouraging women and girls to live healthy lives, to do monthly breast exams, and when appropriate get mammograms and treatment," she said.
Holzer Bass, the wife of U.S. Ambassador John Bass, has held previous photo exhibitions in Chicago and Kathmandu. She describes her photographs as her way of sharing a part of what she has experienced during her time in Georgia and Azerbaijan. "It is truly a personal reflection, a private peek into what I have seen and the people with whom I have shared wonderful moments," she said.
The exhibition is open to the public and runs through April 30.