Georgia Welcomes South Korean Business
By Salome Modebadze
Friday, March 30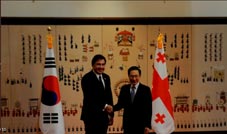 Georgian President Mikheil Saakasvili spoke of importance of Georgia's cooperation with South Korea on March 29. As Saakashvili said Georgia's presence at the 2012 Seoul Nuclear Security Summit has proved its regional importance.
"Our northern neighbors may be very unpleased with our representation at such important forums as they consider us "politically dead" but they would have to get used to the fact that Georgia won't disappear," Saakashvili said referring to Russia.
President of South Korea Lee Myung-bak expressed his support towards the territorial integrity and sovereignty of Georgia and hoped to move the cooperation on a new level. Myung-bak spoke of Georgia as the unique reform making state in the region as the connector of Europe and Asia.
Both countries surrounded by large neighbors have a lot to share to each other. Comparing the geopolitical situation of the two countries Georgian President welcomed the success South Korea has achieved.
Saakashvili welcomed the fact that South Korea has managed to overcome all the obstacles, find its place on the world market and become an examplary state in the region through its "formula of success."
"When we think of the problems Georgia is facing nowadays we have to consider how South Korea started development in 1970s," the President said confident that Georgia would need even less time to overcome poverty.
As Georgian President said the Korean businessmen plan to carry out lots of projects in Georgia. Hotels, hospitals, energy plants are supposed to be built in Georgia through foreign investments. As Saakashvili said all these projects would create thousands of jobs and promote Georgian economy.
Seoul-Tbilisi straight flight is one of the main projects which are in the focus of the two countries. The two sides hope to soon establish the direct air connection thus encourage the touristic cooperation between Georgia and South Korea.
Talking of Georgia's export opportunities Saakashvili said that Georgian wine should by all means be introduced to South Korea which has wines from all around the world.
Georgia already has an embassy in South Korea while Georgian Minister of Foreign Affairs Grigol Vashadze said the Korean officials plan to open their embassy in Georgia in near future thus promote the two countries' relations to a new level.