Bulgarian-Georgian ties tighter during two-day visit
By Ernest Petrosyan
Tuesday, April 3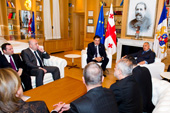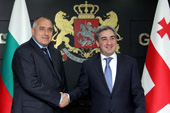 Bulgarian Prime Minister Boyko Borisov met with Georgian President Mikheil Saakashvili on Sunday, who hosted a Bulgarian delegation at the Presidential Palace in the Avlabari district of Tbilisi.
The sides, according to the President's office, discussed joint projects and regional cooperation.
At the meeting, Borisov expressed support for the process of Georgia's EU integration, stressing the beginning of negotiations for visa liberalization with the EU. He also expressed an interest in importing Georgian electricity and Azeri gas through Georgian territory, bypassing Russia.
The Bulgarian Prime Minister also met his Georgian counterpart, Nika Gilauri, at the Government Chancellery.
After their meeting, Gilauri said that both sides "have much in common", including the "most significant" of common issues – relations with Russia.
"A few days ago [Borisov] personally made two most important decisions – first, to cease construction of the Burgas-Alexandroupolis oil pipeline financed by Russia; and second, to cease construction of a nuclear power plant, which was carried out in Bulgaria by Russian financing as well," Gilauri said.
The two governments are considering implementing "a good number" of joint projects, including natural gas exports passing through Georgia, as well as the export of Georgian electric energy. The Prime Minister also stressed the development of trade communication between the states. "I mean boat communication, and railway and road communication," he explained.
"Bilateral projects, which include [Azeri] gas exports from Georgia passing through the Black Sea to Bulgaria, the export of electric energy to Bulgaria through Turkey, [and] railway communication between Bulgaria and Georgia through Turkey, are the most significant strategic and geo-strategic projects. Thanks to them, Asia is connected with Europe without Russia. [Until now], everything has been carried out through Russia. Now the connector of Asia and Europe can be a free Azerbaijan-Georgia-Turkey-Bulgaria corridor," he affirmed.
"We have significant relations in the multilateral sector as well," Gilauri added. "Bulgaria is Georgia's supporter in integration into NATO. Bulgaria is Georgia's supporter in its relationship with the EU... the free trade agreement as well as an agreement on visa liberalization, for which we shall enter into negotiations in the near future".